Welcome to part 2 of my Creating Content in Paragon series. This guide will be focusing on classes and will be working of the assumption that you read the first part. If you need to know the basics of Paragon please checkout Part 1. Much like items, classes also work off IDs and will need to either add the DLC ones yourself or use a mod that has them pre-patched in.


1.

Requirements: 

Paragon by Thane98

ID Editor by AmbiguousPresence

A dump of the game

Custom models requires use of the dev tools and so until other tools are made to edit bch models that will not be covered in the guide. It is unfortunate by I don't make the rules and I don't feel like getting sued by Nintendo.


2.

Section 1: Class Module

Open the class module in Paragon you'll be faced with a very similar menu to items, table on the left, entry data on the right. One major difference in the class module is you'll see each class has two entries, these are for Male and Female respectively.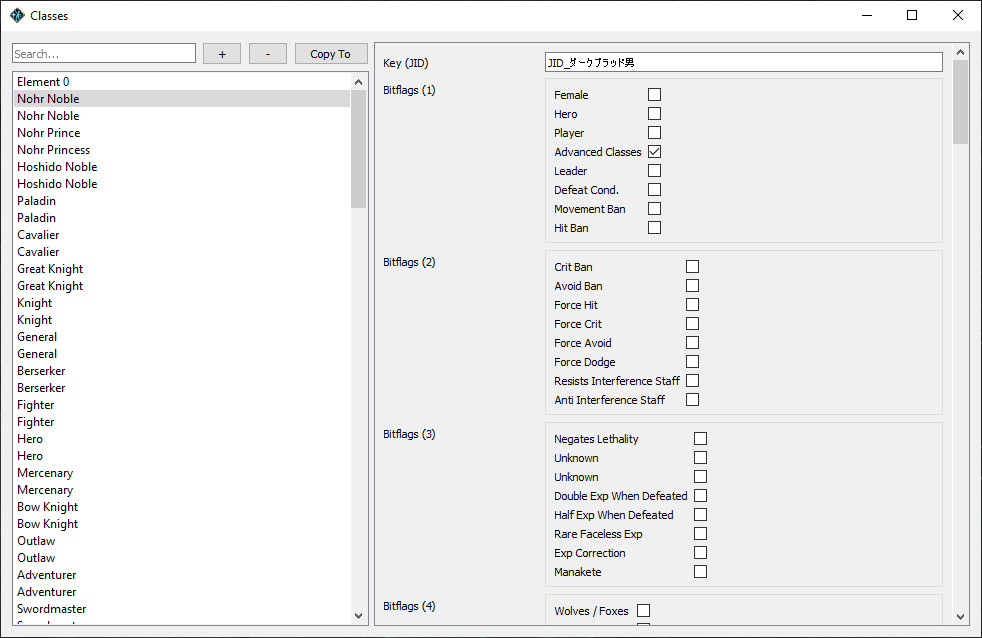 Hit the "

+

" button at the top to add an new entry then use "

Copy To

" from another class to get a good starting point. just like items there are some important things to setup.

Key(JID) and JID: these lines must match. Starts with "

JID_

" and ends with either "

男

" for Male, or "

女

" for Female.
The "Female" flag must be used for female classes and the "Advanced Classes" must be used for any promoted class.
FID is the only required If you play on making the class available for basic enemies.
MJID and MJID_H should be change before editing the text box below them. "\n" represents a new line the text box.
ID: Each has to be different and the numbers must be in order, You cannot skip Id numbers in the GameData which is why we have to setup DLC entries before adding in new classes.
Special Flags are used for weapon effectiveness.
 Ranks for Weapon EXP can be seen in the "Weapon Ranks" module, you can open both modules at the same time.
the "Basic Enemy" flag in the basic flags will allow the class to show up in skirmishes. 
Advanced Classes are what the current class can promote into, Base classes will determine skill and reclass options while uses a promoted class.
Parallel classes will be inherited if the class is flagged not to be inherited.
3.

Section 2: ID Editor

Launch Id Editor and load the

asset/ROM2.lz

file. Copy and paste a class entry similar to your new class Change the name to the

JID

of your new class.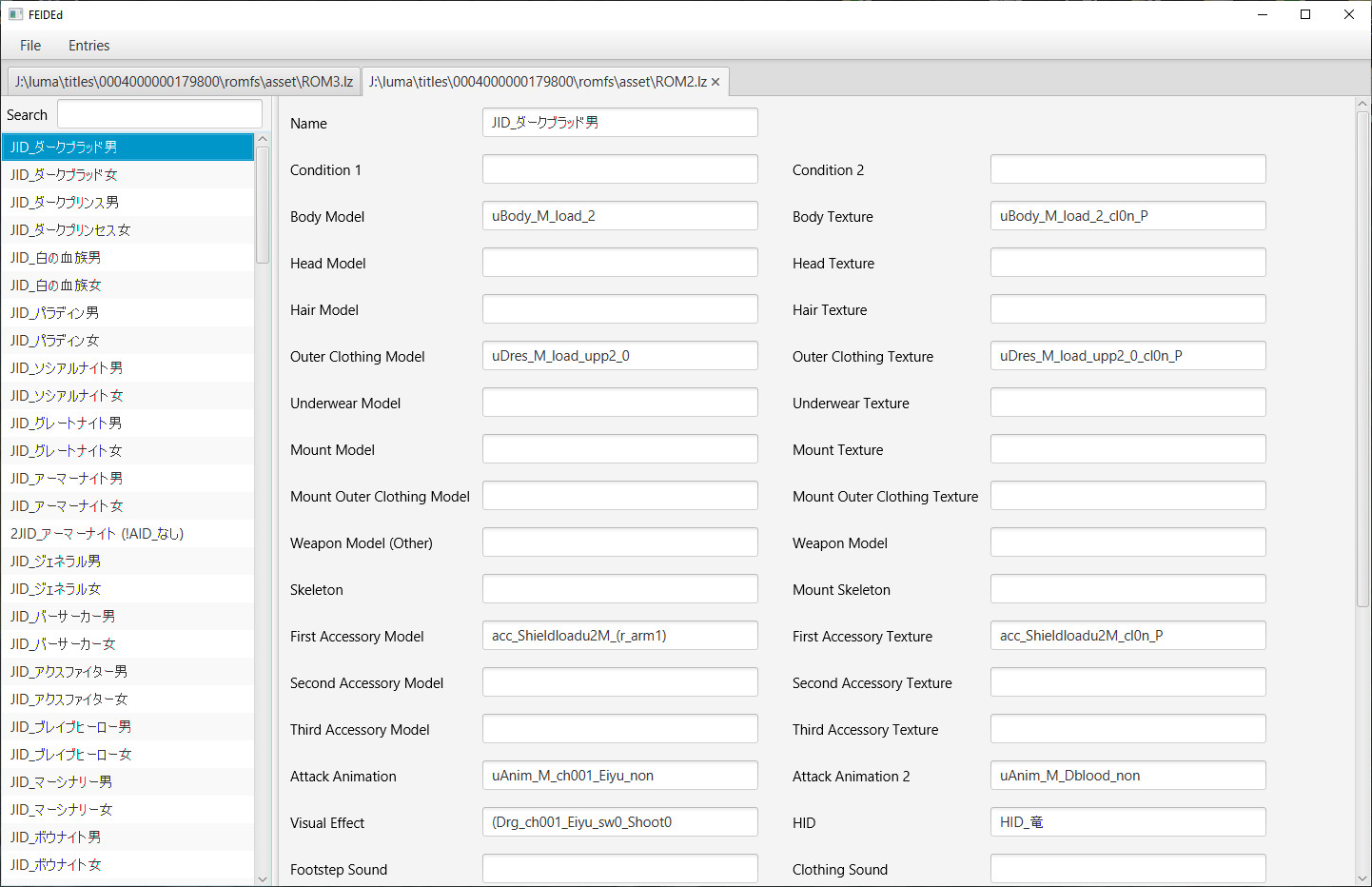 Important things to note about Class entries.

Body model in the model uBody bch.lz and Body texture is the matching texture bch.lz. texture bch's normally end with "

_cl0n

". you can change the "

_P

" to "

_?

" to make the game load Player(P), Enemy(E), or Ally(A) based on unit faction.
Outer clothing model is similar to Body model expect these are named "uDres". uDres models get layered on top of the uBody. if the uDres model has bones not in the uBody it will cause an infinite stretching to world origin.
Accessories can are tied to a single bone using "_(Bone name here)".
uBody and uDres models for unit and mount are stored in the bu folder, accessories are stored in the

bx

folder.
HID is used for transforming classes.
4.

Section 3: Sprites

Sprites are loaded from unit/body can are based in the

JID

of the classes. Sprites are stored in folders with the

JID

name without the "

JID_

". inside those folders bch files for each sprite sheet and an anime.bin, which controls the animations. without proper tools you'll have to copy and rename an existing sprite folder for you new class. However with the proper tools sprites are packed like this, the Kanji tells what army loads it and number is the sprite type.

0

is Idle sprite and

1

is the Movement sprite. the Kanji is as follows.

紫 - Valla
緑 - Ally
赤 - Enemy
青 - Player
5.
Other Guides
Part 1: Items
Part 3: Characters