Paragon is a new tool created by Thane98 for editing 3DS FE game like Awakening, Fates, and Shadows of Valentia. The main focus of Paragon, however, is Fates. I will be making a multi-part guide for using Paragon to add things like Items, Classes, Characters, Chapters, and more.

This guide will be focusing on Items and Weapons however things like magic and staffs, while stored in the same file, are much more complex and will be covered in another guide.


Important note about adding new content:

Fates works mainly for ID numbers for things like Items, Classes, and Characters and does not like skipping numbers in the base GameData(DLC is different). So DLC items and classes need to be added into the base game before new ones can be added. this doesn't provide an alternate way of getting theses items and most of the are just normal weapons are are flagged differently. 
A pre-patched Gamedata is include in the Icon Project mod and can used as a good modding base. Without further ado lets get into the guide.


1.

Requirements

Paragon by Thane98

ID Editor by AmbiguousPresence

A Dump of the game

Custom models requires use of the dev tools and so until other tools are made to edit bch models that will not be covered in the guide. It is unfortunate by I don't make the rules and I don't feel like getting sued by Nintendo.


2.

Section 1: Paragon Basics

After installing Paragon and launching it you'll have to do some basic setup. Set the

ROM Path

to the romfs folder of your game dump. The

Project Path

can be any folder you want, Paragon will save your new edited files to there. Lastly the

Game

and

Language

are based on your game, FE14 is for fates, and select the language that your game dump is in so Paragon can find the right files. Paragon will take a second to load all the modules so just wait a minute if you don't see anything load up instantly.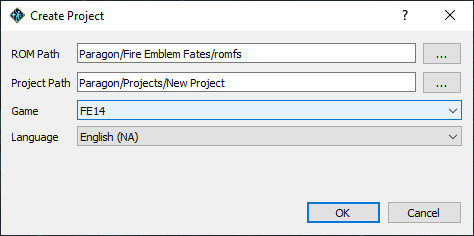 Once Paragon is loaded up you'll have 3 Tabs; 

Modules

,

Dedicated Editors

,

Opened Files

. For this tutorial you'll only need to use the

Items

 modules in the Modules tab. So double click on Items and Paragon will load the module and any required file needed.


3.

Section 2: Item Module

This is where most of the editing will take place, On the left you'll see the table of entries and on the right is the entries themselves. At the top of the table section you'll see a "

+

", "

-

", and "

Copy To

". "

+

" is to add new entries, "

-

" will remove them(currently not working) and "

Copy To

" will copy all the data from a selected entry to another entry of your choosing.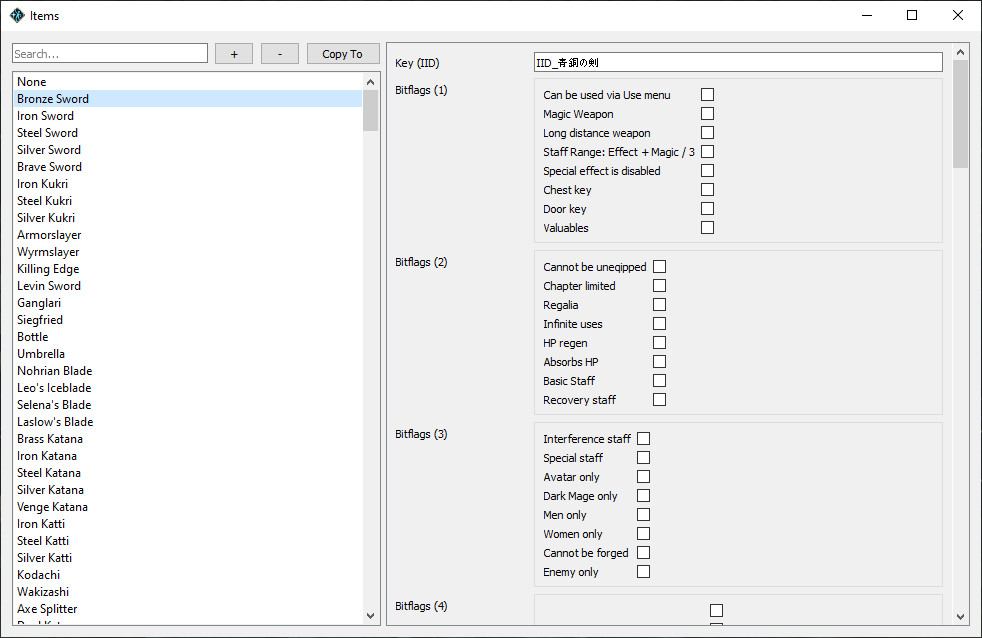 To add a new item you just have to hit the + button at the top to add a new entry. Then you have to fill out that data or copy another entry over. Most options are self explanatory but there are some Important bits of data need to be setup correctly or you'll run into problems.

Key(IID) and IID: must be the same, these lines start with "

IID_

" but the rest can be whatever you want.
Name and Description: start with "

MIID_

" and "

MIID_H_

" respectively, remember to change the

MIID

and

MIID_H

before changing the text just below them. "\n" represents a new line the text box.
ID: Each has to be different and the numbers must be in order, You cannot skip Id numbers in the GameData which is why we have to setup DLC entries before adding in new items. overlapping IDs will cause glitches like loading the original weapon over you new one or vice versa and overwriting the dlc ones.
Ranks for Weapon EXP can be seen in the "Weapon Ranks" module, you can open both modules at the same time.
3.1.

Extra bytes

They are called "Extra" in this module. The following list may not cover everything, but you will get the idea.

For most items, 8 extra bytes is stat bytes, following the normal order (HP / Str / Mag / Skl / Spd / Lck / Def / Res).
For Daggers, Shurikens, Saws, Enfeeble and all weapons that can be used to debuff the enemy (i.e. have flag 56), the extra bytes are debuff stats.
For all weapons that change HP after combat (i.e. have flag 54 and 55, like Spirit Katana, Moonlight, Berserker's Axe, etc.), the first byte is HP percent. They are different than the weapons that can be used via "Use" command to heal HP (like Sheep Spirit, etc.).
For all weapons that give user some bonuses while in possession, the extra bytes are stat bonuses.
For all items that have the same effect as **Rally** command (e.g. Violin Bow, Allegro Harp, etc.), the first byte determined which Rally is used. 0x1 is Rally Strength, 0x2 is Rally Magic, etc. If the sign of the first byte is reversed, Rally effect will be applied to the enemy team, e.g. 0xFC (-4) is Rally Speed for the enemy.
For all items that change user's stats when choosing **Use** command (e.g. Sheep Spirit, Vulnerary, Tonics, Statboosters etc.), the extra bytes are stats, obviously.
For class-changing Seals, the first byte determines Seal type. If the first byte is 0x5, the second and third byte will determine class. For example, 8 extra bytes for Dread Scroll are `05 76 00 00 00 00 00 00` (76 is class ID of Dread Fighter class).
Once you're done with all the edits you can close the Items modules and hit File > Save. Paragon will save all the files that got edited into your projects folder. If you want to quickly test your weapon you can make it available to buy in the shops.


4.

Section 3: ID Editor

The Last stage of the process is to assign a model to the weapon. As of the current moment custom models aren't really possible for the average modder, If this changes I'll be sure to update the guide.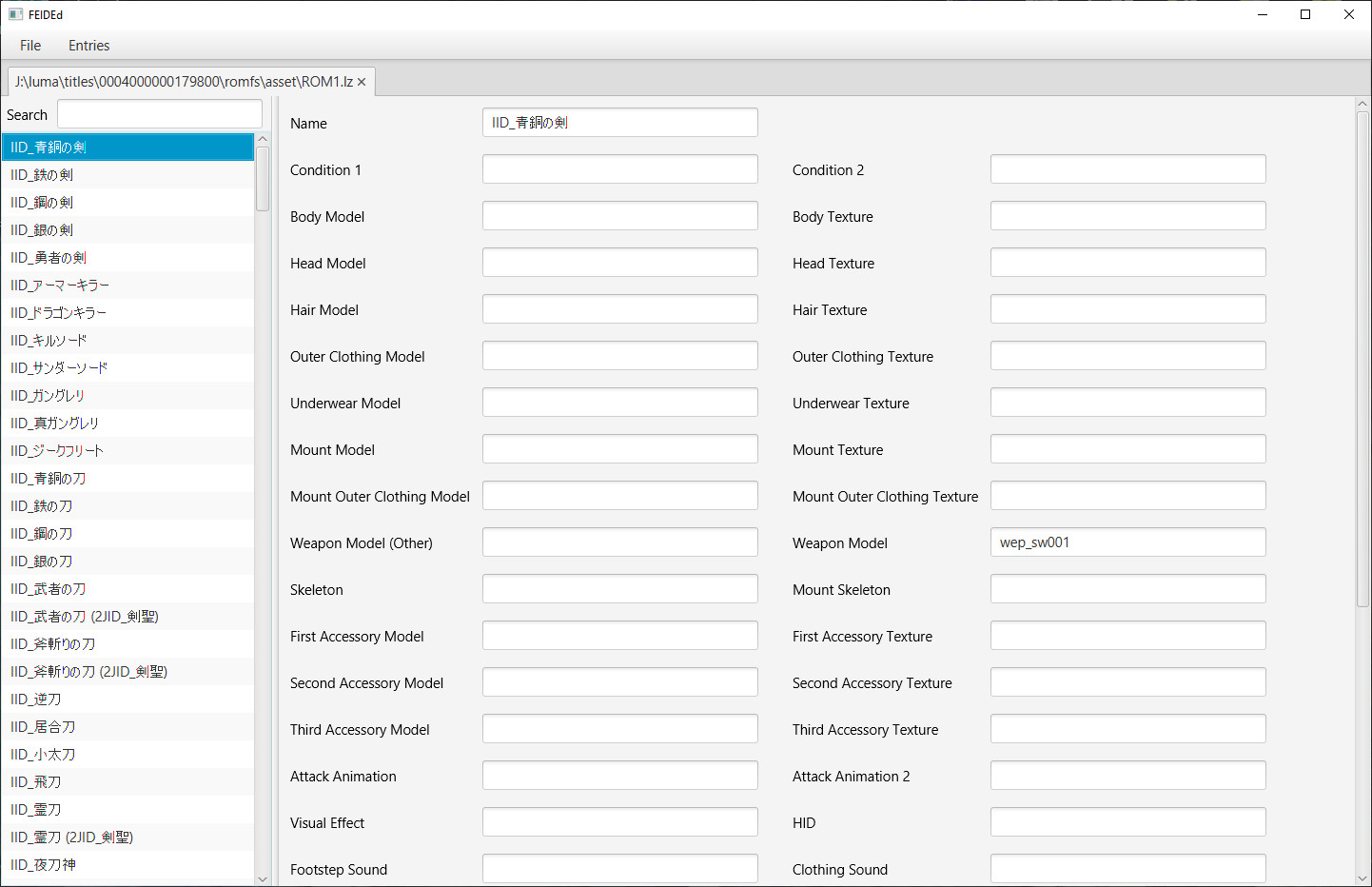 Once you have ID Editor launched choose File > Open File (Fates) and open the

asset\ROM1.lz

file. Scroll down to the last entry, CTRL + C and CTRL + V the last entry to create a new one. Change the "

Name

" to match the

IID

of your new item and the "

Weapon Model

" to the name of the model you want(without the bch.lz). models must be located in the bx folder.
When you're done just hit File > Save File As and save the new file to

asset\ROM1.lz

in your Project folder. after that you're all done, copy the contents of your project folder into your romfs folder in Luma.


5.
Other Guides:
Part 2: Classes
Part 3: Characters