Portraits are a very important part of Fates and essential part of creating new characters. Portrait edits of existing characters are also very popular among FE fans. This guide will explain how to add new portraits into the game.


Required Tools:
Photoshop, Paint.net, Gimp, or any other Photo editing program of your choice, I personally recommend using Photoshop.

A way to handle Alpha Channels one .png images, Photoshop users can use SuperPNG.

FEAT - Fire Emblem Archive Tool. For Extracting files

3ds Dev Tools, I personally can't tell you how to get these or provide a link, however these are the most important part and you cannot create new files without them.

fefates tools, Required to make the .arc files - Requires Python


Step 1: Extracting the game files needed
Assuming you already have a dump of Fates and the Romfs extracted, you'll need to go to

romfs/face/face

. In here you'll find .arc files sorted by character name in Japanese and what type of Portrait they are.

_st

files are 256x256 full body,

_bu

are 128x128 Heads, and

_ct

are 512x512 Crit of skill activation. You can find a list of the Japanese names here.




Drag the arc file in FEAT, these will extract it's contents into a folder with the same name as the original file. most portrait arc's contain 7 files however some have more. Navigate to the folder created by files and you should see all the files extracted by FEAT. each file is a .bch.lz with the name of the emotion of the portrait, these names are important because the game will crash without all the files.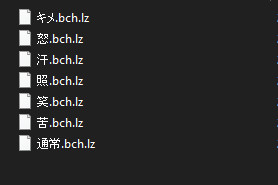 .bch.lz files are lz compressed bch files, while FEAT can decompress and extract the textures inside, it cannot rebuild bch files. So drag the file into FEAT and you'll be given more folder for each bch file.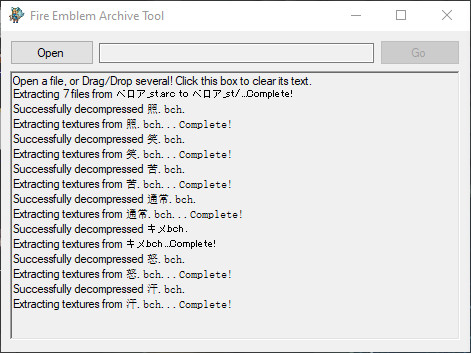 The different Emotions are as follows:

キメ - Posed - This one is different for each character
怒 - Angry
汗 - Sweat - small image of a sweat drop, doesn't need to edited
照 - Blush - blush overlay, doesn't need to edited
笑 - Smiling
苦 - Pain
通常 - Standard
Each folder will have a image called

tmp.png

inside, this is very important, the internal name of portrait files must be called tmp, otherwise the game will not load them.


Step 2: Photo Editing
Now that you have the Image you're free to edit them how you wish, however there are some things to note about them.

The Alpha for the image determines load order in the ui, so using a plugin that allows loading transparency as an Alpha Channel is highly recommended. If you don't have anything that can do this most portraits use about 94% transparency. Alternatively I have Python Scripts the can split and merge Alpha channels on my github here.

Faces on Portraits all line up, so you can load each emotion has different layers and make your edits on another layer for a quick edits to each emotions.

The

_bu

portraits are just a cropped version of the

_st

, So you can just load your

_bu

image into the

_st

edits, line them up, then crop the images. using both these methods you'll only need to make your edits once to get a full set of

_st

and

_bu

portraits.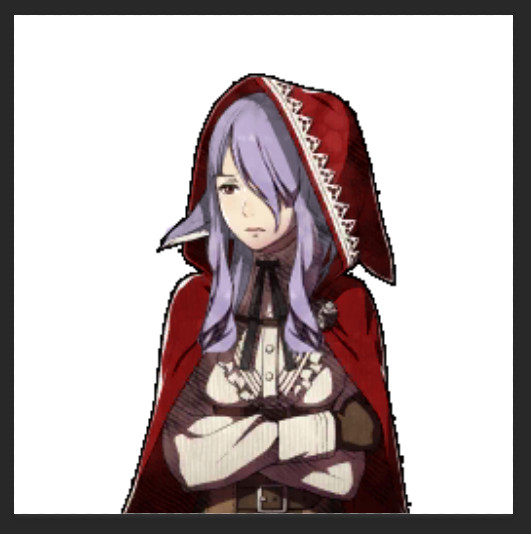 After you've finished your edits you are ready to add them in game.


Step 3: Converting Images to Game Files
Note about the dev tools, I cannot go into detail about these tools. the information provided below will only make sense if you know / have the dev tools. don't blame me for this these are Nintendo's rules

This part will require the Dev tools, more specifically the

bch converter

and the

texture converter

/ Photoshop Plugin.

to convert the images to

.bch

you're first gonna need to save them as a

.ctex

. This can done a by either, Saving the the image as a

.tga

and using the

texture converter

to convert it, or by saving it as a

.ctex

using the photoshop plugin(The photoshop plugin can also export the

.tga

with the same settings as a

.ctex

, but they would still need be be converted with the TextureConverter).

If you're using the texture converter you'll need to make the following .bat file.

[texture converter exe] --output=tmp.ctex --format=ETC1_A4 --etc_encoding=mediumimproved %~nx1
If you wish to use the Photoshop Plugin you should use these settings.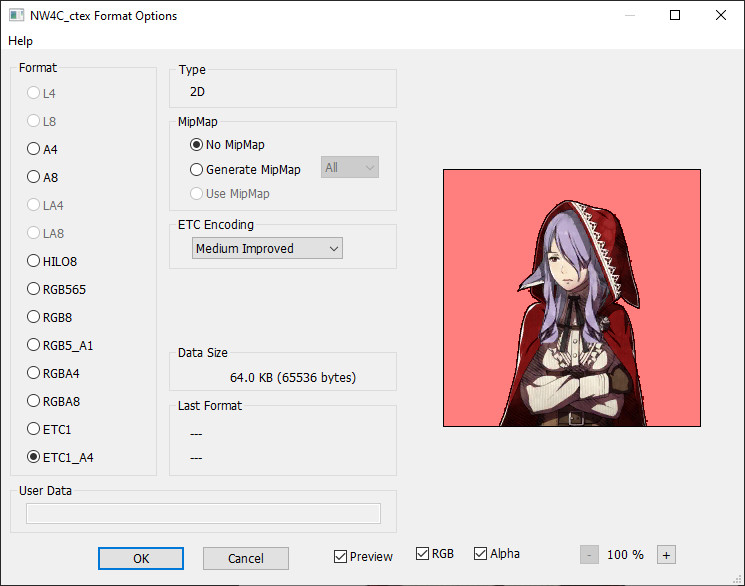 The Red overlay on the shows the Alpha Channel, this Plugin also can't convert transparency to an Alpha Channel which means you need to the SuperPNG plugin to handle that.

To convert the

.ctex

to

.bch

you'll need to use the

bch converter

. Make sure your file is called tmp.ctex, This part is very important once your file is a bch you're free to rename it to the right emotion name. convert the ctex using the following batch command.

[bch converter exe] -o=%~n1.bch %~nx1
Once you have all your bch files it's time to Compress them. for this we go back to FEAT. Drag each file, one by one, into FEAT's window to compress them, it should create a new file with the same name but with a

.lz

at the end.

Put all you portraits

.bch.lz

into one folder and rename it to match to character and portrait type your want, in my case I would name it

べロア_st

. (You can use the original Sweat and Blush in this folder as those should be unchanged.)

move this folder into fefates tools folder and drag the folder onto the

arc.py

, if that does work using this batch command.

python.exe arc.py %~n1
This should create a .arc file with the same name as your folder. After that your're ready to load your new portrait in game by placing back in the

romfs/face/face

folder.