Hey, ive been putting together a fast reference list for Goldsrc modding and wonder if anyone knows of any others.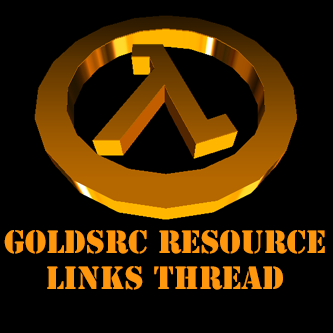 1.
Sites:
The Whole Half-Life
Sourcemodding.com GoldSrc section
Wavelength.net Articles
RunThinkShootLive
Sven Manor (Mapping For Sven Co-op)
The SnarkPit
CounterMap2 CS Mapping site
LiveWires List Of Mapping Resources
2.
Tools & Plugins:
Sourcemodding.com GoldSrc Tools Archive
GS-HL Tools archive
Half-Life Zone Editing tools
Half-Life SDK (can also be downloaded through steam)
Hl-Texture tools - Wad & Sprite Creation Utility
Slackillers Collection Of Legacy HL Tools
Nem's Crafty BSP Viewer Tool
ModDb's Half-Life Section
GameBanana's GoldSrc General Tools Section
GameBanana's Half-Life Tools Section
GameBanana's CS1.6 Tools Section
RIPENT - BSP entity ripper
BSPedit
2.1.
Mapping Specific:
J.A.C.K Map Editor
Sledge Map Editor
Hammer 3.5.3 by Yo-Den
VHLT - Hammer Compile Tools (improvement on ZHLT)
2.2.
Modelling Specific:
DoomMusic's Improved Studiomdl.exe (fixed UV shift)
HLMV Standalone - GoldSrc MDL viewer
Crowbar MDL decompiler and GUI compile tool
P2MV Model Viewer (Color Remap Preview)
Game Zombie 3DSmax SMD Tools
WallWorm 3Dsmax Tools & Utilities
Blender SMD tools
PeterTheGoats SMD converter (for blender)
Wunderboy's Tools and 3DSMax Plugins
MilkShape3D lightweight editor (has built-in SMD support)
3.
Models & Wads:
17buddies GoldSrc Model Downloads
Gamer-Lab GoldSrc Content Downloads Resource
The Half-Life High Definition Pack
4.
Video Tutorials:
RunThinkShootLive's Hammer Beginner stream tutorial
RunThinkShootLive's Level Design Academy Playlist
Modelling For GoldSrc In Blender Series
Animated Helicopter In BlenderTutorial
Transparent Textures
Animated Textures
Creating a Mod playlist & Hammer
GoldSrc Programming and other playlists
5.
Communities:
GameBanana
SourceModding Discord Server
Sven Co-Op Forums
HLFX (Russian Community)
Half-Life Creations Forums
TWHL Forums
Snarkpit Forums
6.
Legacy Content:
The Valve ERC
CS1.6 Playermodel Tutorial
PlanetQuake's Half-Life Tutorials
Legacy 3DSmax Plugins
Unknownworlds Big Forum Thread on Half-Life Modding
Hammer Content Pack
EYERONIK'S Mapping Tutorials
ZHLT - Hammer Compile Tools