*****************************************************

Exteneded Credits:
Model: Fiblah
Silencer: Se
Silencer Skin/model: rayzian
Pistol Skin: rayzian
Scope Rail-Model/skin: PD Team
Scope – Model and Skin Twinke Masta
Hack and Compiles: kannoe
Sounds: Vunsunta ***************************************************** Please PM me, if there is anything wrong with the credits or skin. Enjoy! Regards, kannoe .
Files
Comments
access_time 7y

Hi I really love your weapon and I was wondering if you could port it to other Valve games, like Left4Dead2?

I don´t know why but the weapon turned up in my left hand. How can i change it ? Thank you

why is the nighthawk always on my left, and other weapons on my right? can anyone help me?

access_time 8y

Was thinking of doing something Similar to this. Was planning on modeling one my self for fun, though it seems the Scope attachment and its rail was skimped out on, or maybe it was on purpose.

access_time 8y

Make one without the scope :P

Is the original nighthawk in your 2nt pic a real skin or not?

Pros: great gun however. Cons: missing one file for people who complain about it not working copy v_pist_usp.dx90.vtx and paste it and rename it to v_pist_usp.dx80.vtx so the visual model works. Please in the future file check for us people who don't have super freaking computers. Thanks.

Nice skin

access_time 10y

Awesome sound and everything, but on my computer it does not show the gun if I did somthing wrong PLZ tell me.

access_time 10y

I love this thing XD perfect in every way. tons of fun. i think i love the sounds most of all.
Embed
menu
Image URL

HTML embed code

BB embed code

Markdown embed code
Credits
Submitter

kannoe
Creator
Game

Counter-Strike: Source
Category
License
menu
This work is licensed under a
Creative Commons Attribution-NonCommercial-NoDerivs 4.0 Unported License
.
Attributes
Share
favorite 32
cloud_download 93.8k
remove_red_eye 199.7k
mode_comment 113
access_time 12y
access_time 12y
More from Submitter
menu
Mossberg Shotgun
folder
M3
Woodland Phoenix V.2
folder
Phoenix
Boomerang
folder
Kukri Machete
Hammer
folder
Kukri Machete
WiPs by Submitter
menu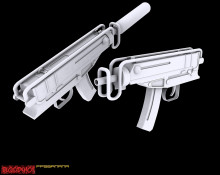 Vz61 Škorpion #6
folder
General
More USP Skins
USP Retexture
folder
USP
USP-S • Ravn
folder
USP
Kimono's USP 45
folder
USP
Golden USP
folder
USP