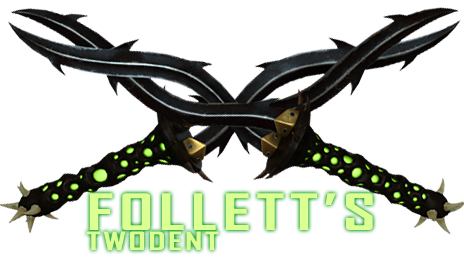 A dark mage called Follet created this unique double bladed dagger which was originally bestowed upon the dragonborn, however it fell into the wrong hands of Hermaeus Mora who turned the magical dagger into something fearsome and unknown to the outside world. The dragonborn later discovered Follet's twodent in the lost depths of Apocrypha. After his return to Skyrim, he taught his fellow man how to create this excellent dagger like any other Ebony class weapon.

This submission was created for the Gamebanana Halloween Skinning contest.

Also available on the Steam Workshop.





- A custom and unique model
- High quality textures
- Tweaked shaders for Skyrim with emission of the glowing parts.
- Craftable (under the Ebony class) and Enchantable
- Leveled list





This dagger was originally created with the Halloween theme in mind, however when choosing for Skyrim to be the game we'd put it in, we also kept the Skyrim lore in mind which resulted into this dagger that could easily fit in the vanilla of the game and still have a dark Halloween theme to it.