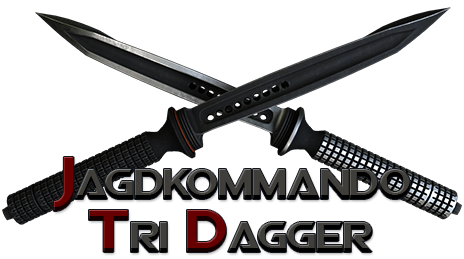 The Jagdkommando Tri-Dagger or TED for short, is a very unique dagger that's completely made out of 6061-T6 Aircraft Grade Aluminium and now it's brought to Counter-Strike:Global Offensive!

This release is best downloaded together with a High Quality Arm Texture

One made by myself or by Thanez!

Now also available for Counter-Strike:Source!



3 Texture variants: default black, Elite Black and Elite Green
A brand new Model
A baked Normal and a Specular Map
A phong exponent texture made specifically for CS:Go
Tweaked out Shaders specifically for this model
A World Model
Custom Inspect Model




Currently the only way to install this skin is by editing the main pak01\_dir.vpk file.
Before we start it's a good idea to backup your pak01\_dir.vpk just to make sure you don't break your own game.

1. Extract the downloaded archive and select your texture variant.

2. Copy the material folder from your chosen texture variant.

3. Go back one folder and go inside the Required folder where you then Paste the materials folders you earlier copied.

4. Copy everything inside this folder and paste it into:

"steamapps\common\Counter-Strike Global Offensive\csgo"

2. Open up the pak01_dir.vpk with a text editor like Notepad++

3. Press CTRL+H (Find and Replace) to replace the following:


v_knife_default_ct

With:


v_knife_default_cv

This will replace 7 instances, now do the same for the World Model where you replace:


w_knife_default_ct

With:


w_knife_default_cv

This will replace a couple more instances than the view model, after this Save your VPK and you're done!