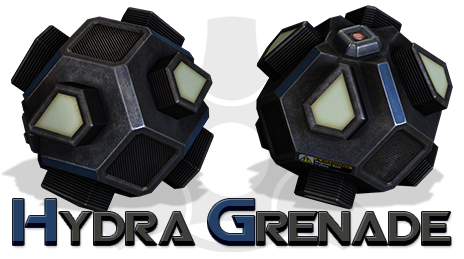 In the year 2065 a new type of grenade has been created that uses Magnetic Fields to generate its power output.
This type of grenade was called the HydraGrenade as it could mimic all kinds of grenades! The design was originally created by a young student that was just experimenting with different kinds of magnetic fields.
This design later fell into the wrong hands and was transformed in this very unique and handy death tool.
This grenade also comes for CS:GO and was originally made for the Original Weapon Contest.

This grenade comes with 3 different types being:
High Explosive Grenade
Flashbang Grenade
Smoke Grenade
These 3 types have different color pallets and have their own world models as well. The HydraGrenade's Magnetic Field pumps have illuminated lamps just like the trigger that can be spotted in the dark if not carefully covered up.
It also comes with brand new sounds including a great idle sound for the HydraGrenade!