I was never a big fan of the whole 'magic, wizards and elves' experience and that's why I never really understood the devotion some people had when it came to praising The Elder Scrolls: Oblivion. It was a great game, but being obliterated by an old man in a robe did not rank high on my 'Things-I-want-to-see-happening-to-my-character' list. When news surfaced about there being a new chapter in the Elder Scrolls series most of my gamer friends instantly started bombarding me with links to screenshots, news and videos of 'Skyrim' at a rate that would make any spambot jealous. When the time came for me to review this game I was already looking forward to playing it; however not as much as my friends who craved playing this game like survivors on a desert island - that had only sand and toenails to eat - and craved a proper meal.


Oblivion was renowned for its wide open world that had a life of its own: random encounters would surprise you when you least expected it and a lot of the decisions you made throughout the game could come back to haunt you later on; Making a sequel would be an incredibly hard job and yet they managed to pull it off. When you walk through the towns in Skyrim, a lot of the characters are working on the land, forging weapons, cleaning their houses, singing in taverns and even arguing about recent events in the kingdom. Almost everyone has a story to tell, so when you spend some time in a village, you actually grow fond of its inhabitants. The random encounters themselves have become more diverse - and at times - breath-taking. Imagine chasing down a thief who just snatched some goods from a store or going for a walk after having spent the night at an inn, only to find that there is a dragon waiting for you on the rooftop of the nearest house!

I have played some pretty games, but walking through the snowy landscape in Skyrim has to be one of the most visually pleasing experiences yet in a videogame! You hear the wind blowing across the hills, snow slowly falling towards the earth and aurora borealis gently rippling like a banner in a breeze. This was probably the first time I actually stopped to stare at all the magnificence from a game. The detail on the dragons, characters and enemies is truly amazing: the appearance of the characters and enemies changes depending on what location they're in: frostbite spiders living in snowy areas are covered in a coat of snow, but if you encounter them underground, they are far more likely to have a darker texture than their 'standard' counterpart. The only issue I've noticed with the graphics is when you turn down the settings to medium or low, landscapes in the distance tend to show off a lot of repetitive textures.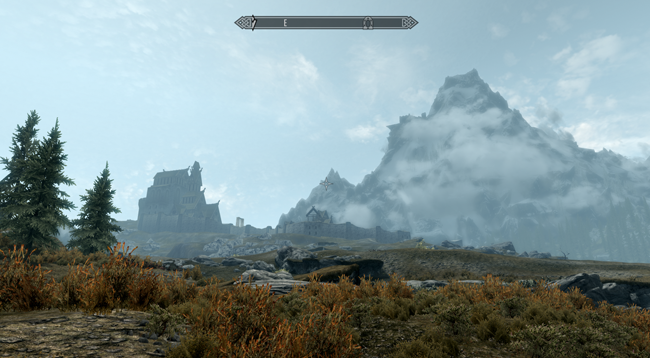 Just like in Oblivion you start the game as a prisoner - only this time you and some rebels called 'stormcloaks' are on their way to the chopping block after an ambush by the imperial army. Just as your head is about to roll, a dragon attacks and you manage to escape in the confusion. From there on, you decide the fate for the whole of Skyrim - not just yourself of course. Despite the fact that this game revolves around magic, medieval folklore and dragons, not once did the story make me think 'now that's just silly'. The amount of things to do in this game is just baffling; I have played this game for over 25 hours and it feels like I have yet to scratch the surface of the things I can do and discover! ? Skyrim brings back all the good things from Oblivion, but sadly it has also taken some of the bad with it as well; Bugs are not uncommon and your companions still prefer walking five miles around a pebble because it was too much of an obstacle to get to you., walking into a small room with only one exit is still one of the worst things you can do since most of the time your companion will block the doorway and refuse to move, making you crawl into the furthest corner, hoping they follow you deeper in said room so the door is no longer being blocked. I am well aware that they move if you stare at them for a while, but in my case they only moved when we were in the outdoors where the nearest obstruction is a rabbit fleeing from the sight of two burly men staring at each other in the moonlight.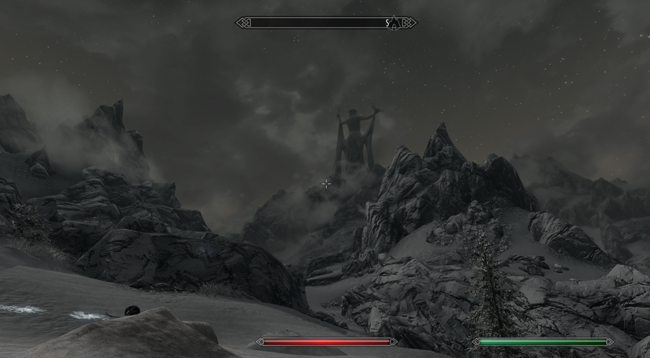 I've heard a lot of complaining about Skyrim being a port but aside from the menus and the odd mouse controls, I never felt like I was playing GTA: Skyrim. It has to be said that the menus can and will be devious at times. For some unexplainable reason your character will sometimes select something completely different than what you had in mind. This isn't an issue when you select the wrong weapon after looting a chest, but when you're talking to a jarl and your character says: 'I'm going to destroy this city and leave no one alive'; instead of: 'you have a lovely city and I want to buy a house here'; You seriously start to question whether or not the developers were paying attention when they were testing the menus for the PC version. Controlling your left hand with the right mouse button and controlling you right hand with the left mouse button can cause some confusion in the heat of the battle. The sound and music in this title is outstanding: whenever a dragon appears overheads, exciting music starts playing; whenever you're near an important place or artefact, the music swells; and when you level up, a large group of singing men starts cheering you on. The sound effects themselves are very impressive, the combination of a dragon's roar and the whoosh you hear when he flies overhead is always very intimidating and hitting someone in the face with a shield has never sounded this rewarding.

The core gameplay mechanics remain untouched: you level up by performing a variety of tasks. If you try and persuade a lot of characters, your speech will increase; if you fight a lot of people, your armour and weapon skills will improve and so on. The combat itself has received some additions, when you're blocking a hit from maces, your shield will give way when your enemy strikes and if you push your enemy back with your shield, they will stagger for a bit, allowing you to deal some more damage before they get back on their feet. Bethesda also added a more constructive side to the game; you are now able to craft weapons, armour, potions and even spells from the materials you find on your travels. If you have a pickaxe you even get the chance to mine for the ores needed to create your armour and weapons!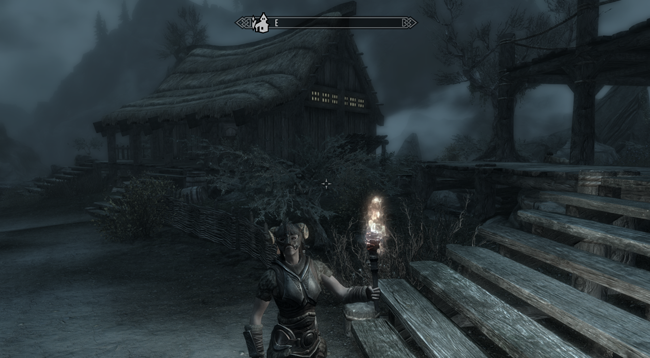 This is one of the best games I have ever played! It is almost a perfect wedding between sound, visuals, gameplay and story. Rarely have I played a game where I didn't like the setting, and yet I got carried away with the whole experience. The raiding of bandit camps, the long fights with Dragons and frost trolls - who just didn't want to die - have from this day forward been turned into gaming experiences that I will remember for the rest of my life, if you haven't gotten this game yet, you should. The only thing standing between this game and a perfect score is the fact that it does have a considerable amount of bugs and the menus that act up now and then. Only now do I understand my friends' enthusiasm about this game, and I hope that you would give this game a chance, even though you don't like the fantasy setting or the developer: because Skyrim is a masterpiece!