1.

Introduction

Back in 97 – 98 I had a few games I was addicted to. My parents bought me my very first computer, powered by a Intel Pentium 166 Mhz and a whopping 4GB hard drive with a good old Geforce2 that ran this old time classic game called: WORMS.

Worms by the publisher Team 17 is pretty much a fusion of Tank wars and Lemmings. Having a 4v4 worm team duke it out with a whole arsenal of weapons and having at least 1 of your members alive is the goal of the game.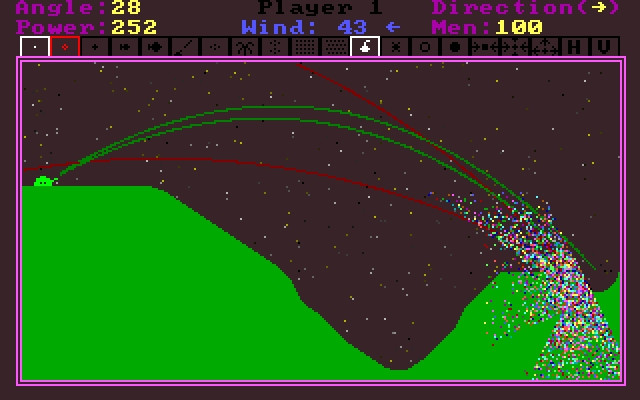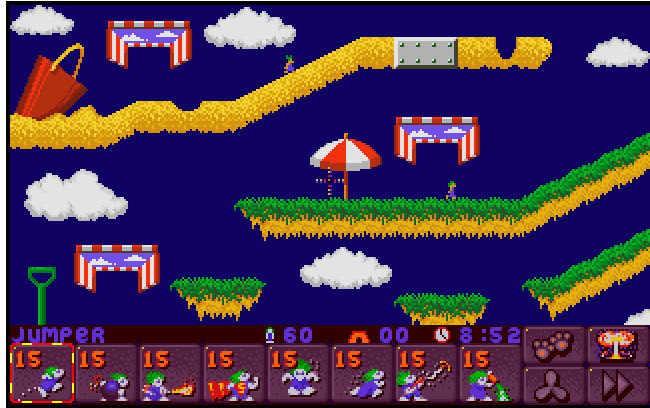 Couch co-op games was the only kind of multiplayer we had, and this game was perfect for people who did not own a controller. There is a single player challenge mode, which is unlockable with passwords. Everytime you finish a challenge you get a password for the next one (oldschool, right?)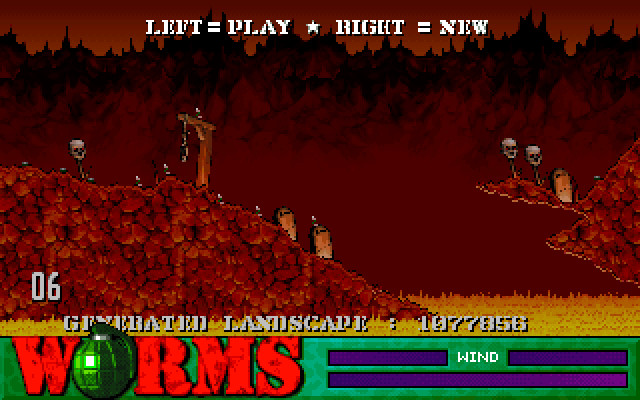 1.1.

Gameplay

You have a team of four worms, and up to four teams can play against each other, which makes it a whopping 16 worms on one map! All worms are scattered randomly on the map and you have to try to kill each other during your own turn. Collateral damage can happen as there are landmines on the floor or when you just can not aim properly.

While the gameplay sounds simple it brings a nice strategic element to this game during couch-play.


1.2.

Weapon arsenal

Your two main weapons that you have to master would be the good old Bazooka, which is very sensitive to wind, and the grenade which isn't sensitive at all to wind but you need a good aim and set the detonation time and bounciness. If the enemy is unreachable or too hard to hit, you can either use the airstrike or a homing missile.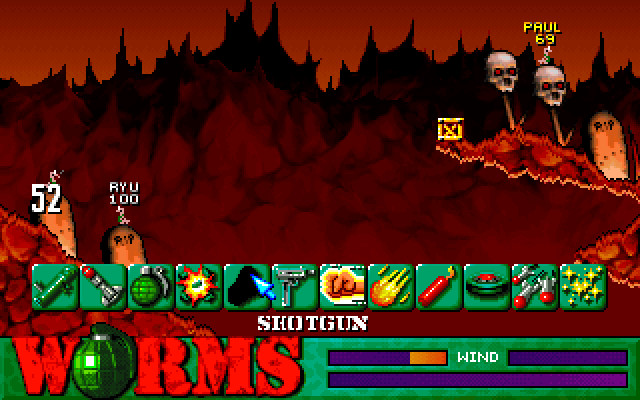 Supply crates drop from the sky in between turns, containing special weapons, sometimes even secret weapons like the famous sheep which you can make it hop around the map and explode when you like!

The Banana bomb is another classic secret weapon that acts like a cluster grenade with huge bounciness and mass destruction! Watch out for the mines on the floor while trying to go to your objective though!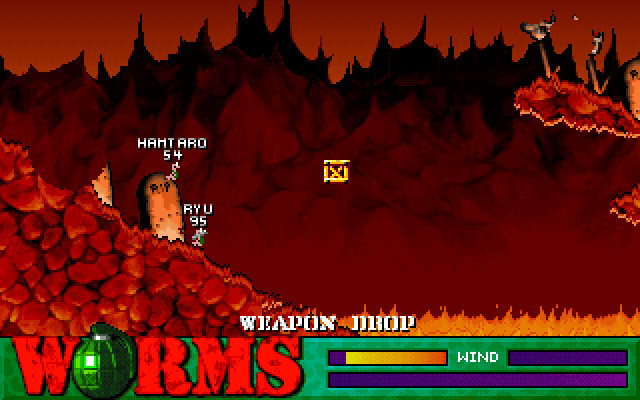 1.3.

Movement

Turns have to be made within 60 seconds and just crawling over the floor and jumping will not work all the time with all the mountains/destroyed terrain or the water/fire (cause Worms can't swim). Teleporting your worm is the easiest and fastest way to go to your location, but you will lose your turn to attack, and it has a chance to fail and put you on a total different location.

My personal favourite tool would be the Ninja rope to swing from one point to another. This is another good reason to use the ninja rope would be to drop a grenade or dynamite and swing away from the blast radius! To avoid fall damage when going from a cliff, your best friend Bungee rope will leave you upside down, but on a safe height to drop down.

Other ways of moving around would be the blowtorch,drill, and girders to build your way across or wall off for some defence.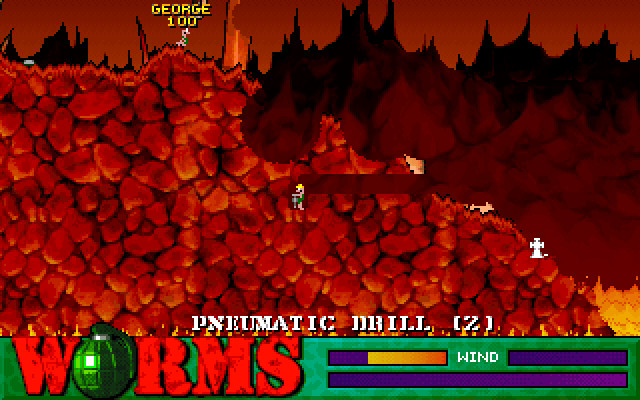 1.4.

Fun facts

When you are really low on health and the enemy is close to a cliff, the best way to taunt them would be using the 'Kamikaze'. Putting a bandanna over your head and flying forward towards the enemy digging through all the walls while mowing down all the enemies is the true way of suicidal victory!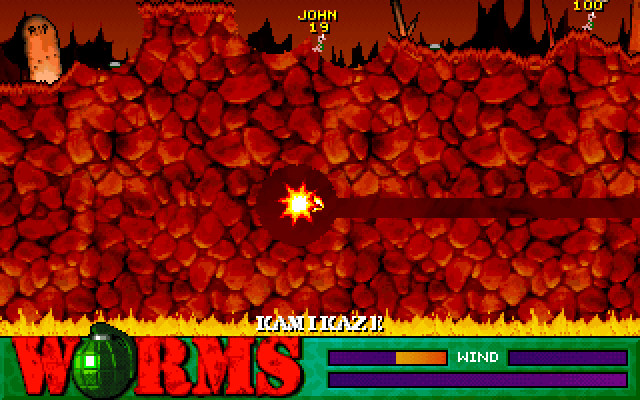 When you die, you explode yourself damaging everything around you in a small radius leaving a graveyard, so it is advisable to stay clear from the enemy when he is about to die.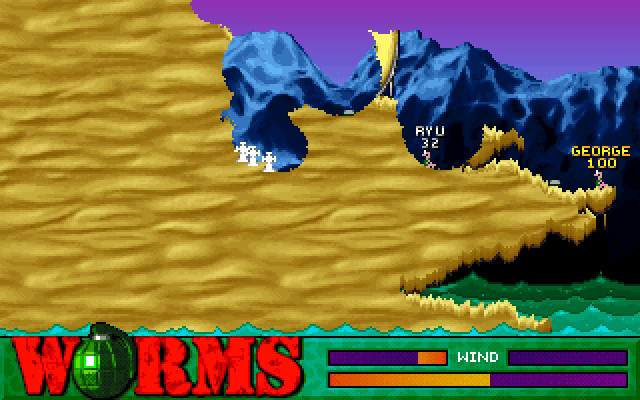 What got me hooked to the game was the funny animations, the way you can kill them, and mainly their voices. The 'Soulman' voicebank will stay my favourite in every Worms franchise. My favourite map scheme that doesn't exist in newer versions of Worms would be the Hell maps which has fire instead of water.

Pushing worms into the fire makes a nice sizzling sound cause who doesn't want some barbecued worm? There is a hidden cheat where you select the uzi, and by holding F3 and F5 u keep switching uzi with shotgun. When that happens you press the trigger to shoot giant holes as a salvo.


1.5.

Conclusion

Having a replay after killing two or more enemies in one turn is a fun addition to taunt your enemy. I would play this game every time friends came over till three o'clock in the morning. The only drawback in Worms 1 is the lack of zooming out, but has been added in all the later versions.

All I can say is, Worms is one of the best classic local co-op strategy games ever made that is easy to learn, but hard to master with a lot of replay value.

So if you are interested to play this great classic you can purchase it with points over at Banana Exchange: https://gamebanana.com/games/exchange/5971