What is it?
Natural Selection 2:Combat is an addition to the beautiful Natural Selection 2 RTS/FPS hybrid game. What was once a free addition to the old NS mod, NS2C will take you back £9.99 or your region equivalent. The game boasts the typical alien vs marine game style, with aliens leaping off walls and chewing your legs off before scurrying to the nearest ventilation shaft, whereas the marines are a more solid fire power driven force often seen spamming grenade launchers, setting things alight and generally tearing things up like there's no tomorrow.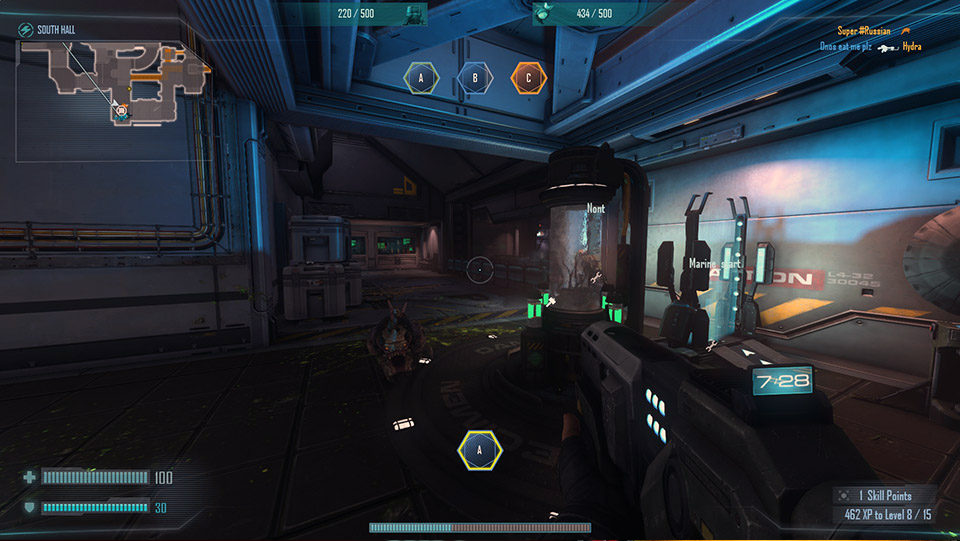 Combat provides uniquely intense close quarter fighting.
Is this just a mod with a cheeky price tag?
Well, believe it or not this addition took over 12 months to develop by a separate company which goes by the name Faultline games and not Unknown Worlds. As such, it won't come as a surprise that the developers taking this project into their own hands wanted to be paid for it, would you not? After all developing takes time even for what might seem like a dumbed down mod without commanders, but let's tread lightly. Stepping aside from this and looking at this game for what it is, Natural selection 2:Combat has a wide array of goodies to play with.


Being stealthy is not as easy as it looks.
So how well does it play?
I've played this game for over 20 hours now and so far I have to say I am very pleased with how smoothly matches run, despite the huge difference in teams matches seem fairly balanced and you'll find this won't be the reason you're bashing your face into your keyboard half the time.

However Natural selection has a tendency to be very...very unforgiving even for an experienced player and Combat is not an exception. What's even worse is that the spillover from the Natural Selection 2 community are coming to Combat. Players who have played the game for 3 or more years are very apparent in both games which immediately makes it's very hard to grasp for a beginner.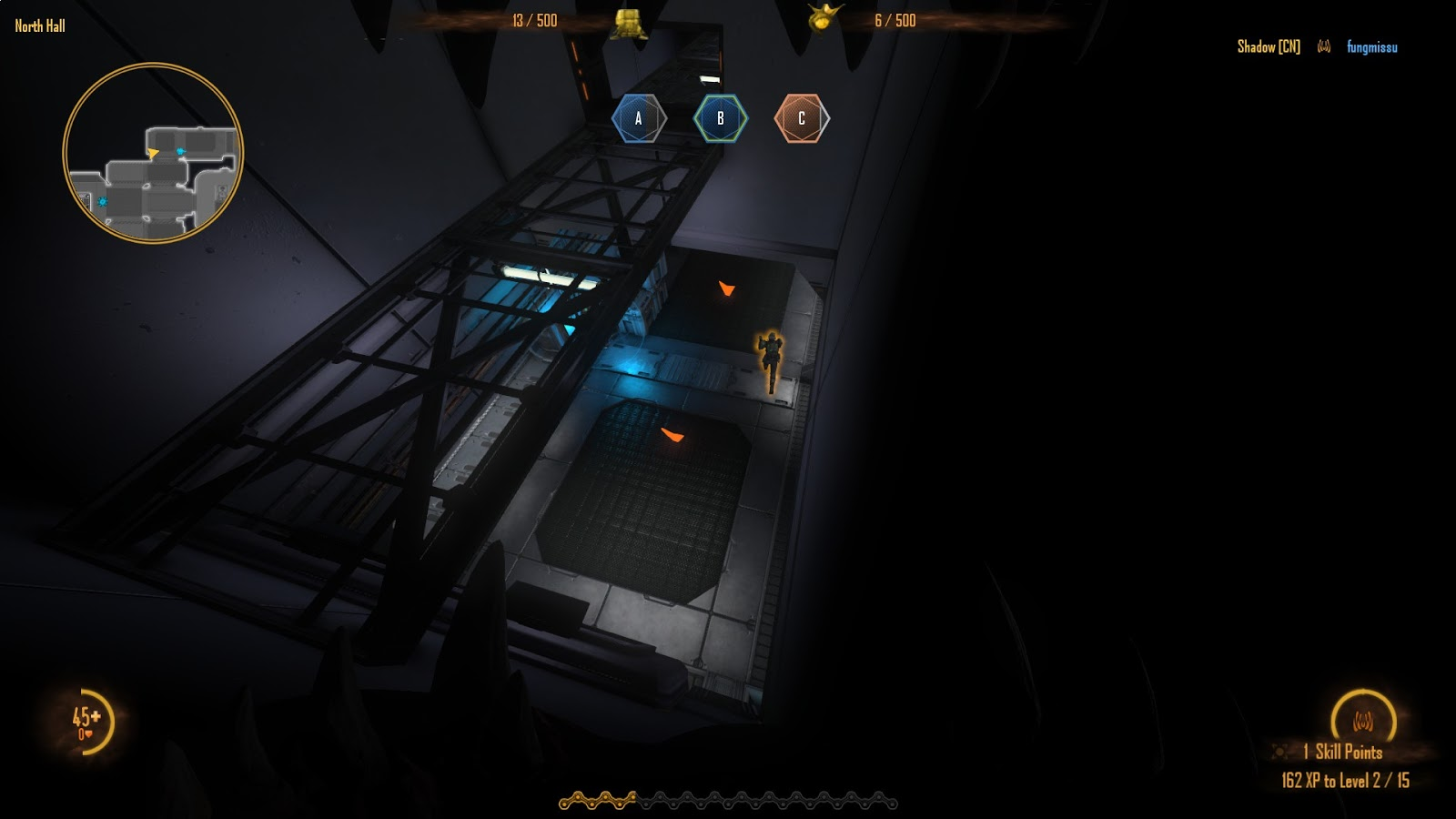 Exploiting the environment's are a must for the alien team.
What does it do differently?
Lets get one thing straight, in terms of Natural selection 2 there's not a lot. Combat has only 2 game modes, destroy the other teams central base unit, and the A,B,C capture game modes that we are all familiar with. While you may find yourself essentially capturing rooms for more xp, these are your conclusive objectives and it really is as simple as that, i'm not kidding. While i'd love to see more game modes I feel like Combat doesn't really need it, I can easily play hours on the same game mode and not have it cross my mind. The fun comes from how you help your team by making the right choices and not just destroying their base, which brings me on to upgrading.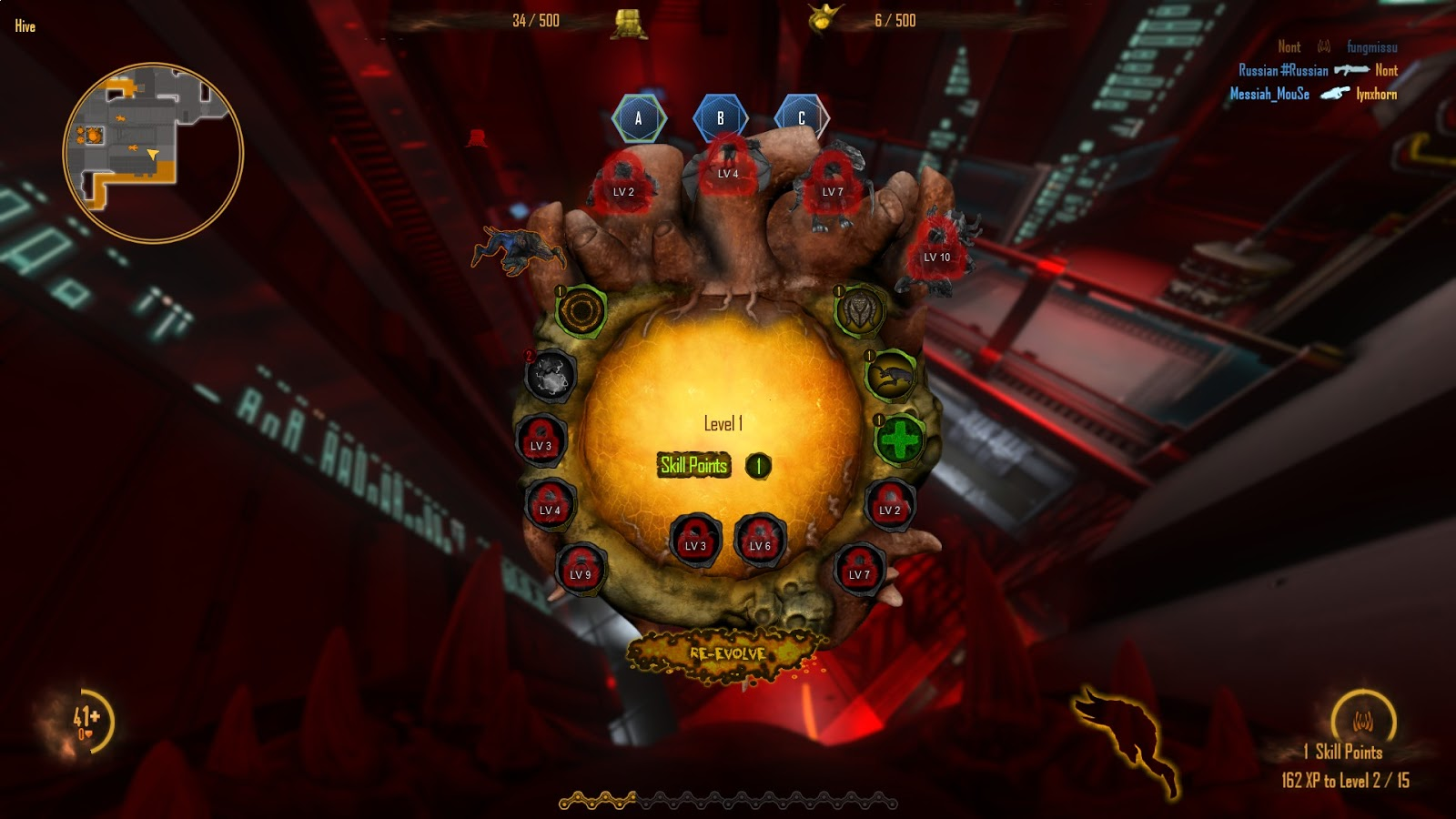 I still don't know what half of this stuff does.

Faultline has done a good job at incorporating a brand new easy to use self-upgrading system, this means you're able to path your marine or alien the way you want to using perks such as self destruct, leap and self silencing by using skill points acquired by xp earned in the game. However it may be worth adding that a lot of the skillpoints aren't explained very well for aliens.

To put it simply, Combat is theoretically asking you what would you think is going to benefit you at this current time in the game, whether thats a freshly unlocked fade class along with silent movement for aliens, or a flamethrower and more ammo for marines. Not every player is going to have the same weapons, perks and machinery and I think it's flat out brilliant that Faultline have chosen to do this.

Interestingly you're also offered to wipe your skill points using the re-evolve button and start fresh by refunding your skill points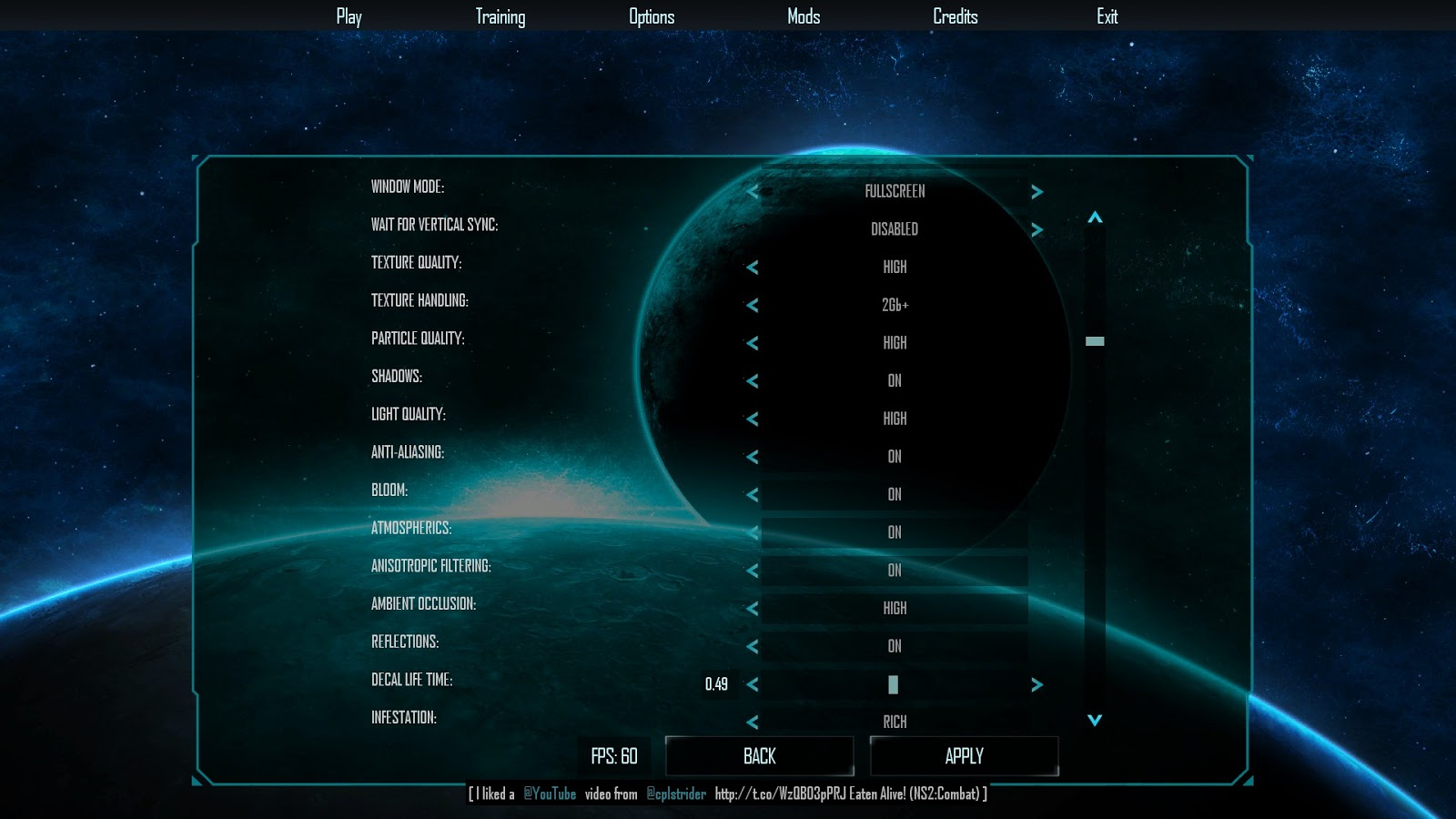 Depending on your GPU, you may spend a lot of time here.
So what will you really get out of this game?
For the cost of £9.99 or your regional equivalent, Combat is still quite a steal. You'll be getting a fast paced, thrilling and sometimes frightening first person deathmatch-esque shooter, dynamically designed to push a difficult and challenging game style. And let's be honest we have all bought games which are left neglected and forgotten about like a christmas present from your aunt. This is a game you'll return to, time and time again. With Combat every game seems to be a different one.

Current owners of the original NS2 game will be disappointed to hear that this game is not free for them either, which admittedly is a bit of a blow to the NS2 community and has sparked comments like "A mod with a price tag" on related forums. However it is not exactly unexpected, considering this game has had very little support from Unknown Worlds.

The atmospherics are truly brilliant, on maximum graphics i'd often find myself stunned by how well it looks and I think this is a result of dynamic and atmospheric lighting.

That being said, it can be quite costly on your system especially in close quarter encounters (which is very often) expect to have a GTX 760 or above to play this on high without many framerate issues.

The graphics settings menu seems to be an almost direct transfer from the Natural Selection 2 version which features a ton of visual settings such as field of vision, reflections, dynamic lighting toggle, decal life and infestation detail. A big problem is that without some of these details selected the game can typically look dramatically outdated.

The sound design is fairly good and generally goes hand in hand with the aesthetics, though some sounds do noticeably repeat multiple times such as the onos attack sound, skulk attacking sound and the marine LMG.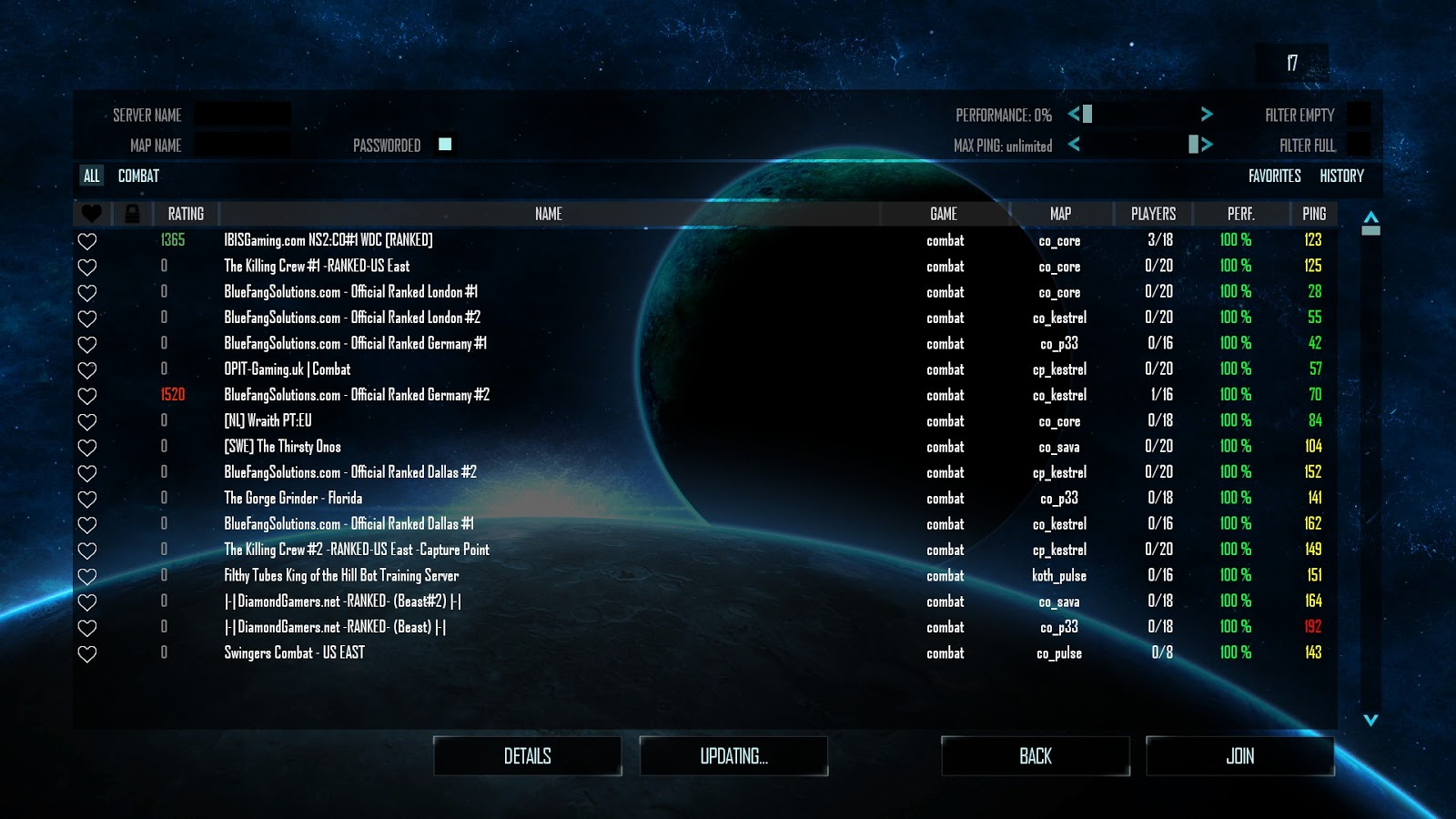 This explains itself.
Should I buy this game?
If you're a newcomer to Natural Selection 2, but are familiar with the first person shooter game style it's hard to not recommend Combat.

As of right now however, the amount of players actually playing NS2C is quite scarce and you will sometimes find that there will be no servers with players in them, this is a big hit to the game. Upon loading it up you'll not always be able to actually play a match with real players which can be mildly disappointing if you just want a quick match before work.

Considering the game has only been available for a few weeks, we hope this is only post-launch teething problems. We can only hope the NS2C community will grow to outlive these problems but as of now, I wouldn't recommend picking the game up due to this issue alone. With future sales that could possibly bring this game down in price and boost the player base, I think it'll be wise to wait this one out if you're not a Natural Selection fan.


Review by: "Kipper" for GameBanana.com

If you would like your game or mod reviewed please contact Jon.Higgins@GameBanana.com