Name: dm_ob_nightmare_church_rc4 (HD - 2015)
Made By: gtamike_TSGK
Map Type/Main Focus: Deathmatch
Update Time: 2 years on and off (Total Map Development Time 3 years)
Map up and running on this Server IP: 108.61.122.47:27015

---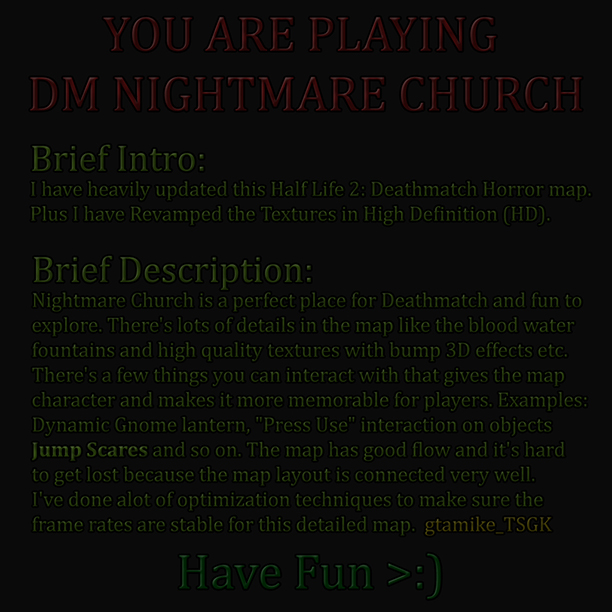 ---
CaptainTerror wrote: Probably the most resourceful use of hl2 assets to pull off some really neat tricks and scares i've ever seen done, this map is in my top-5 of all time. GREAT WORK!


---
AlcyToronto wrote: What a beautiful map! Immersive and exciting, truly frightening. And with a framerate really good for such a map, so detailed! Congratulations on your idea, construction, and optimization.


---
SScagnetti wrote: I like it! The map has a horror feeling without being all dark and stuff. Like literally. You can see everything and there is color to it.


---
DeadCat wrote: OMG THIS IS THE BEST HORROR MAP I HAVE EVER PLAYED... Mainly because there are screamers but there is no story that you have to follow, it is just a free roam map and the story pieces together slowly and please make more.


---
QMD wrote: Ah man, I love that head cut at the piano lol. Plenty of cool scary surprise and everything has been meticulously placed with love and passion in this map, a real pleasure experience and full immersion. Well done Mr. gtamike_TSGK ! Cheers


---
weapon_slam (1)
weapon_physcannon (1)
weapon_357 (2)
weapon_ar2 (2)
weapon_crossbow (2)
weapon_smg (2)
weapon_shotgun (3)
weapon_crowbar (4)
weapon_stunstick (4)
weapon_pistol (5)
weapon_frag (15)

---

ammo_ar2_altfire (2)
ammo_smg (2)
ammo_357 (3)
ammo_smg1_grenade (3)
ammo_ar2 (4)
ammo_box_buckshot (5)
ammo_crossbow (4)
ammo_pistol (6)

---

item_healthcharger (1)
item_suitcharger (1)
item_suitcharger - Super (1)
item_ammo_crate - Grenades (1)
item_healthkit (6)
item_battery (10)
item_healthvial (14)

---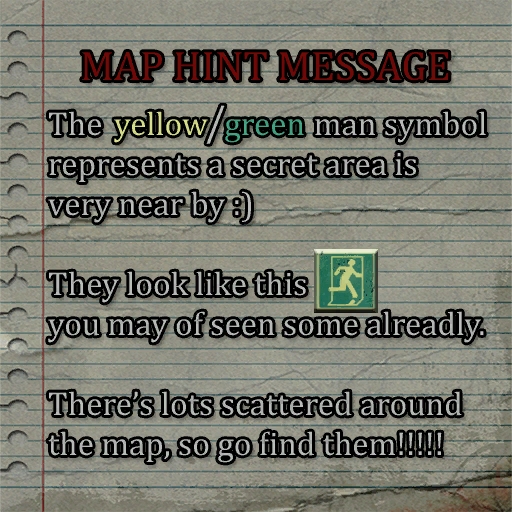 ---


TSGK Map Topic: http://forum.tsgk.com/viewtopic.php?t=5900

Have Fun and drop a comment =)