The oldest question in the book
Which came first: the chicken or the egg?

Umm…on second thought, I think this question is rather irrelevant to our topic; a better question would be:

"What is more important in a map: visuals or gameplay?"

If you answered visuals, you are right and if you answered gameplay, then I'm sorry to tell you that you are…also right.

It all boils down to the context in which these two features are used and inevitably, there is always a tradeoff, as they are both important in a map.

This topic is essential and I could write countless pages on this subject but to keep it simple, I will direct my focus on the first person shooter genre, and more specifically, competitive multiplayer shooters.


In single player shooters
As the name implies, visuals are all about the 3D world that surrounds the player, from models and textures, to lighting and special effects.

Gameplay is the specific way in which the player interacts with the 3D world around him in-game.

In single player shooters, the visuals, on top of being artistic eye-candy for the viewer's pleasure, contribute greatly to gameplay and are an integral part of it.

In many games, the player is encouraged to use the environment to their benefit to outsmart the A.I. opponents. There is an immense feeling of satisfaction when you cleverly use your surroundings to sneak past the hostile NPCs or to send them into oblivion.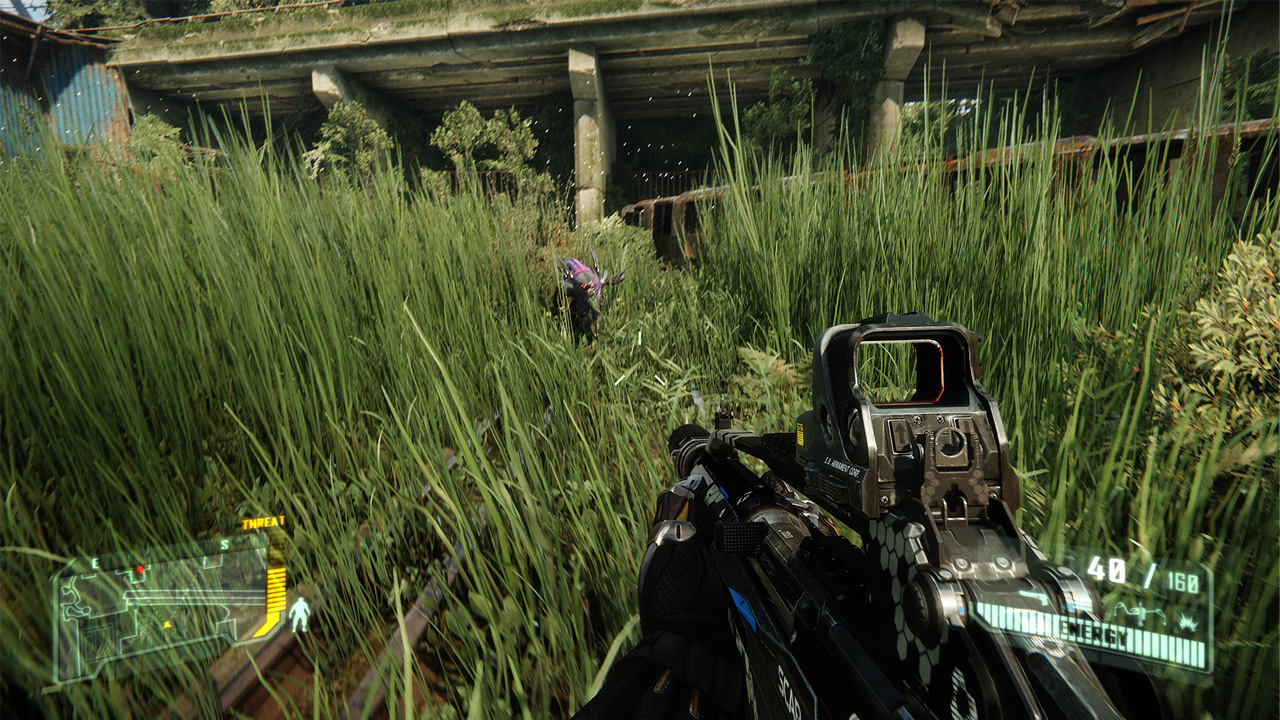 Your cover is blown…run


The above screenshot from Crysis 3 is a perfect example of what I just said. Those green grasses sway gently and realistically with the breeze, and they are a delight to look at. However, they can also be used as a perfect cover to advance through the derelict train yard without being spotted. The player can find rusted cars, dumpsters and similar props that can be utilized as cover or be power-kicked, crushing his foes along the way.

Another example can be found in Far Cry 3.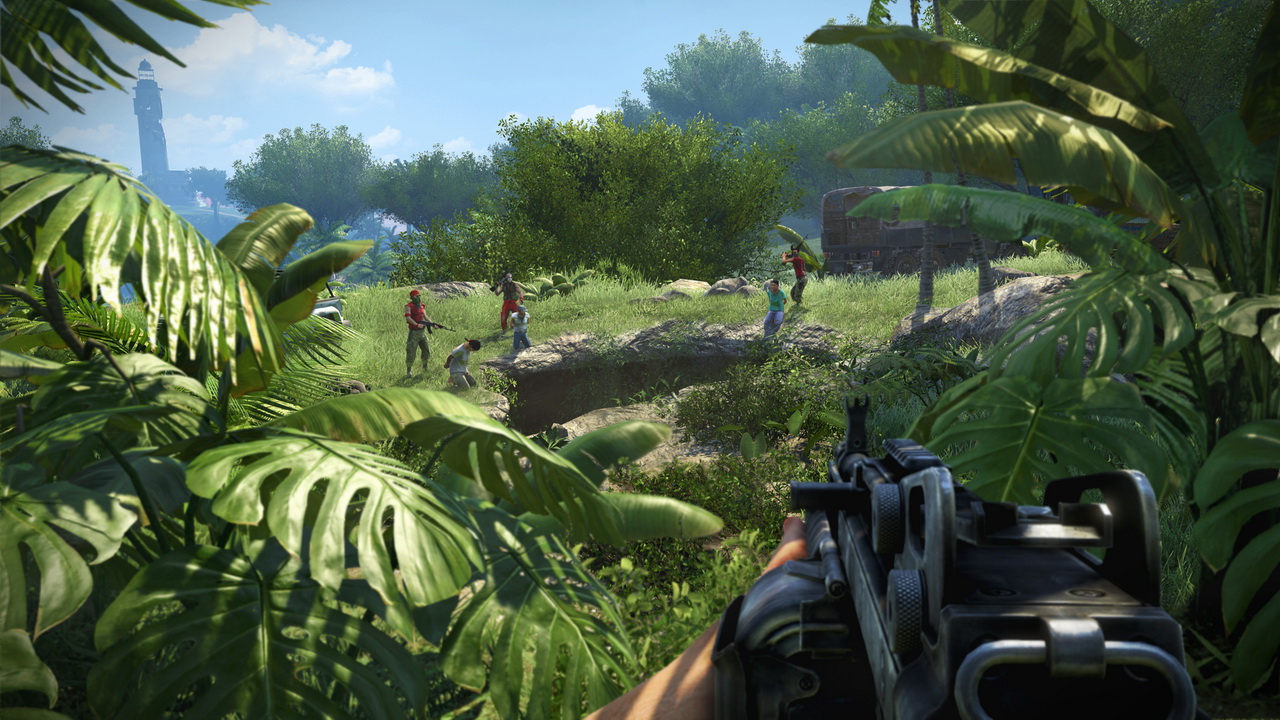 Keep sneaking or show yourself, your choice


The dense, lush tropical foliage of the island can be used to hide from guards, evade patrols or infiltrate enemy camps undetected. Using a thick bush to sneak up behind an unaware guard and take him silently gives the player a strong sense of accomplishment and satisfaction.

Deus Ex Human Revolution is another great example where you can fully use your jam-packed environment to your advantage.


It is crucial to use shadows and dark spots to remain undetected


The game is brimming with dark, shadowy spots that the player can use to avoid guards, security cameras, and those pesky turrets.

In all the above examples, the visuals are there not only to enhance the player's experience, but also to support him during his progression throughout the game. Those games encourage the player to hide in foliage and shadows to gain advantage and surprise the enemy; such behavior is usually rewarded with in-game experience points, in addition to personal satisfaction and the player feeling like they are a hero.


In multiplayer competitive shooters
Multiplayer competitive shooters are a totally different ball game. Franchises such as Counter-Strike, Unreal Tournament and Quake are the pinnacle of this shooter sub-genre.

These games are in a way closer to competitive sports than to games that are played casually to relax and pass time. There is a lot of competition, intensity, team play and edgy moments; these games can be compared to football or basketball or any other competitive sport pitting two teams against each other, and requiring skill, stamina, and team work to clinch the win.

Naturally, these sports need to have a level playing field to allow both teams to have a fair chance to win; it should boil down to skill and aptitude rather than unforeseen outside conditions when it comes to deciding the winning team.

Imagine you are in a basketball court and the opposing team has installed fast flashing lights on their board to blind you while you attempt to score. As time passes, you find yourself unable to shoot the ball into the basket because of the strobing light that is about to cause you a photosensitive epileptic seizure; you get frustrated and go into ball-rage with violent consequences that should not be discussed here.

This exact feeling of justified rage is what happens in competitive shooters when you are treated unfairly by visuals that interfere with gameplay, which become the deciding winning factor instead of your own skill.

Unlike single player shooters, there is always a tradeoff between visuals and gameplay in competitive multiplayer shooters; one of them has to be sacrificed to allow the other to shine. In terms of math, think of them as inversely proportional; if one increases, the other one has to decrease and vice versa.


We need an example
I recently had the chance to review a map for Counter-Strike Source that serves as an excellent case study for our topic. The map is called de_yucatan and is basically de_aztec, the standard map found in Counter-Strike, with enhanced visuals such as lush greenery, realistic sky and atmospheric, moody sunset light.

The author clearly focused on the visual side and made a not so shabby modification of Aztec, making it resemble an actual Aztec/Mayan archeological site in the rainforest.

However, these same enhancements butchered the gameplay; remember that I said visuals and gameplay are inversely proportional, and in this case with visuals skyrocketing, gameplay was dwindling.


We need screenshots
Of course you do. Who needs long walls of text when a picture can tell a thousand words?


General overview of de_yucatan


The above screenshot sums up pretty much the map: lush foliage everywhere, beautiful sky and quite lovely sunset light.

To the untrained eye, the view looks normal and the gameplay should be "fine". To the veteran competitive player, issues stick out from this screenshot like a sore thumb: excess foliage and low lighting condition.

The same visual features that were praised in single player shooters become the bane of multiplayer competitive shooters.

If we move forward beyond those 2 barrels in the above screenshot, we find a ramp that leads to a water underpass.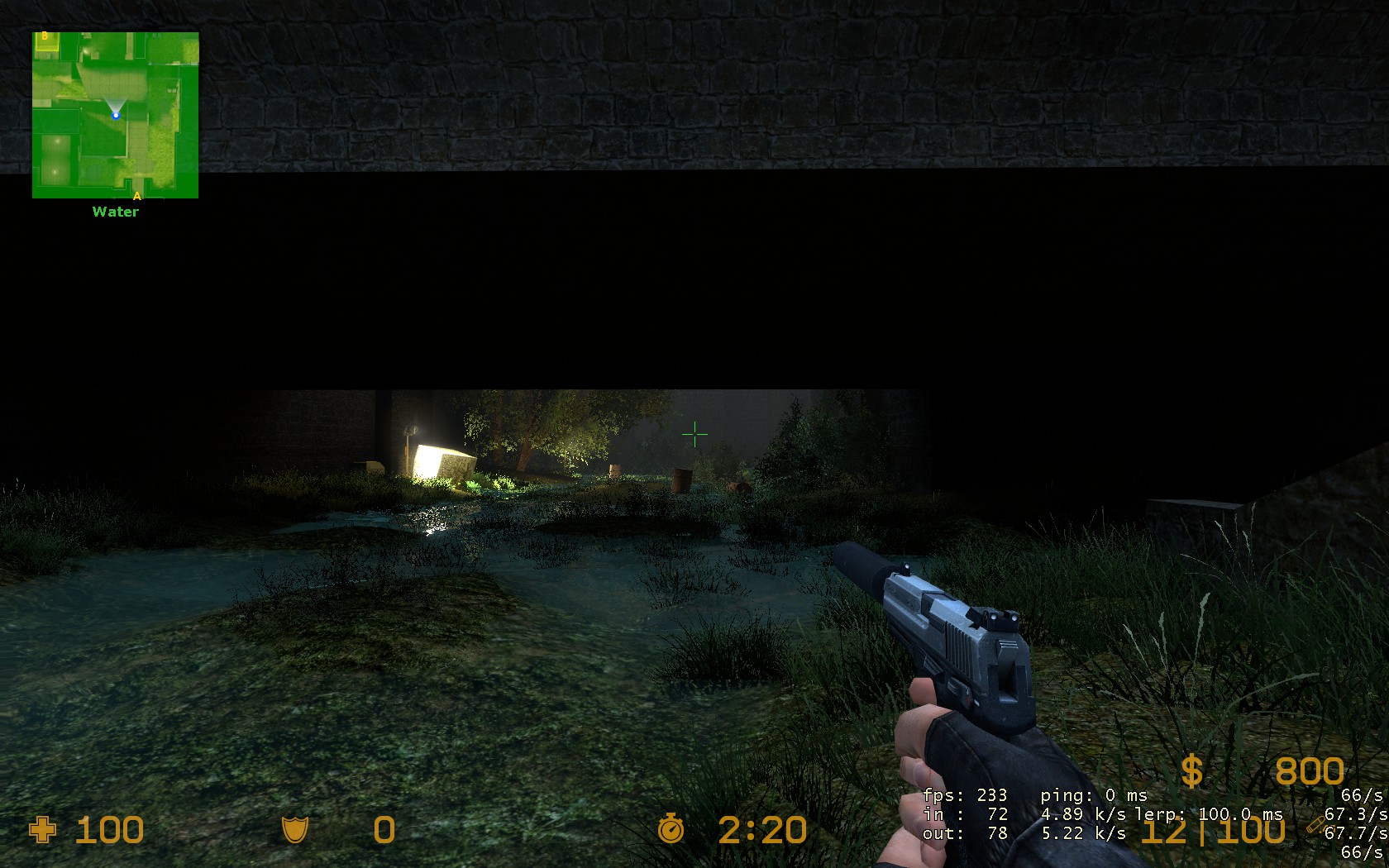 I'm expecting a zombie to jump on me from the shadows…wrong game


Due to the dim environmental lighting, areas of dark shadows are to be expected as seen in the above screenshot, even though the author scattered some flood lights here and there to brighten up players' paths.

Let's check more screenshots to see how those pretty visuals affect gameplay and lead to eventual frustration and rage-quitting.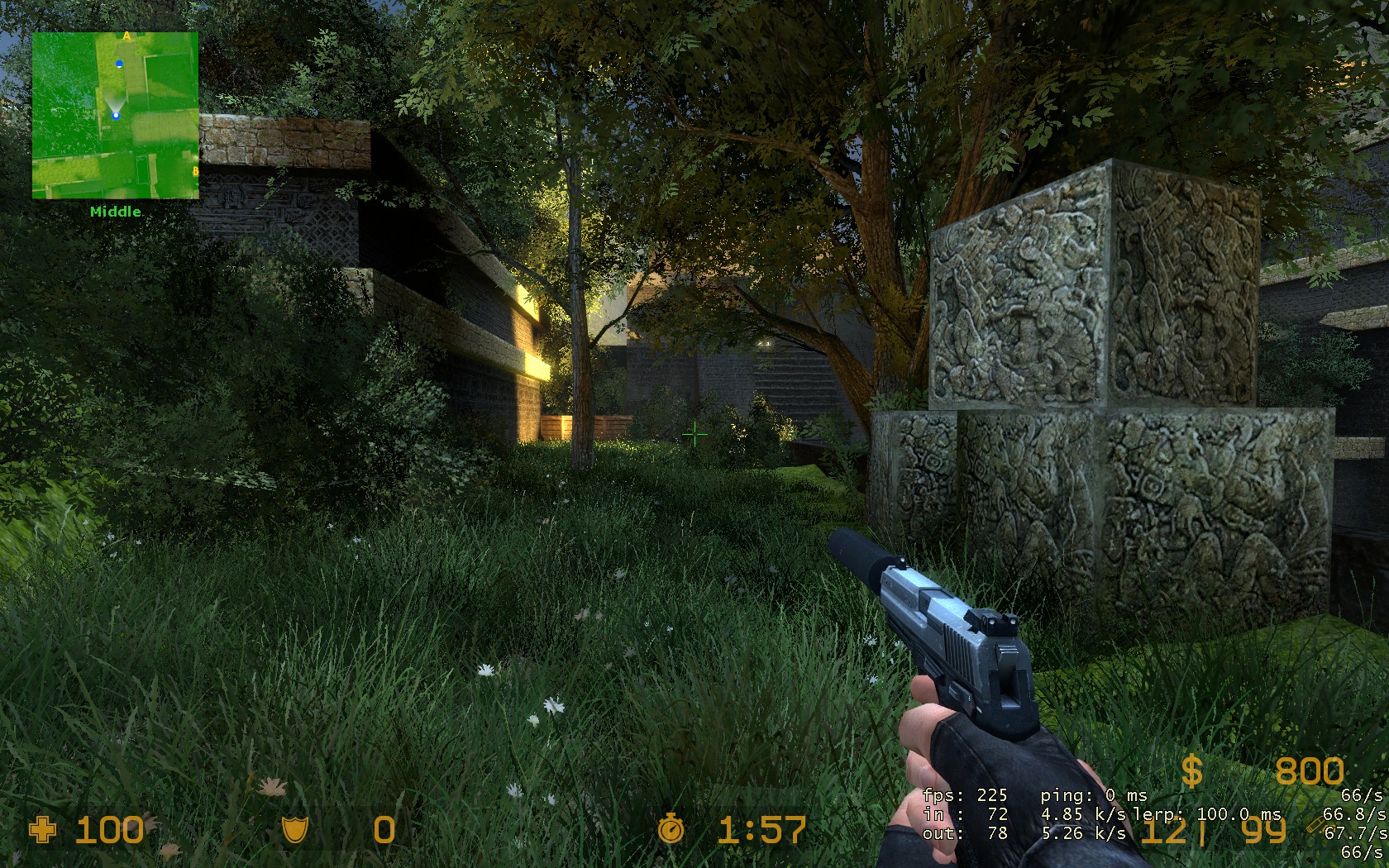 Spot the other player in this screenshot and call 800-512-EYES to win a free visit to the eye doctor


As sarcastic as the screen cap is, it is also true. You probably don't believe that there is a second player in this screenshot, but I can assure you that there is. If you look at the radar overview in the upper left corner of the pic, you will notice a second blue dot; yep that's my teammate, a human teammate that volunteered for science and accepted to duck in the bush for the greater good of scientific testing (and to allow me to beat around the bush – sorry I couldn't resist).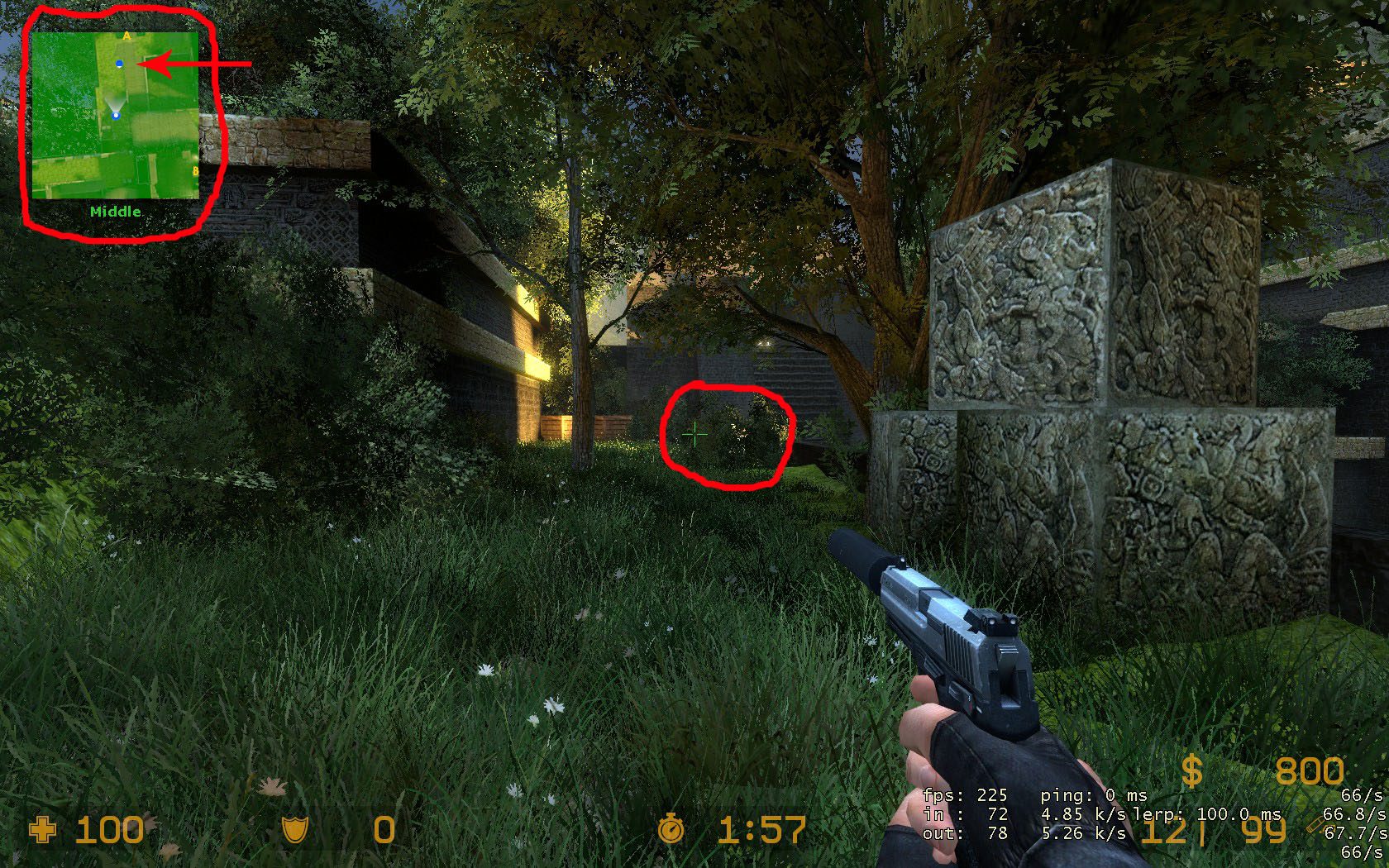 If only those red markers actually existed in-game. Sigh


My teammate is gracefully ducking inside the bush as denoted by the red circle and the red arrow on the radar. He is slightly to the right of my crosshair, yet I totally do not see him even if I strain my eyes trying to.

If you are a "Counter-Terrorist" rushing to defuse or a "Terrorist" sprinting to plant, you only got a fraction of a second to scout the area for enemies. Any hesitation means that your opponent gets the upper hand.

To see the full extent of the gravity of this situation, let's switch views and witness this same screenshot but this time through the viewpoint of my teammate.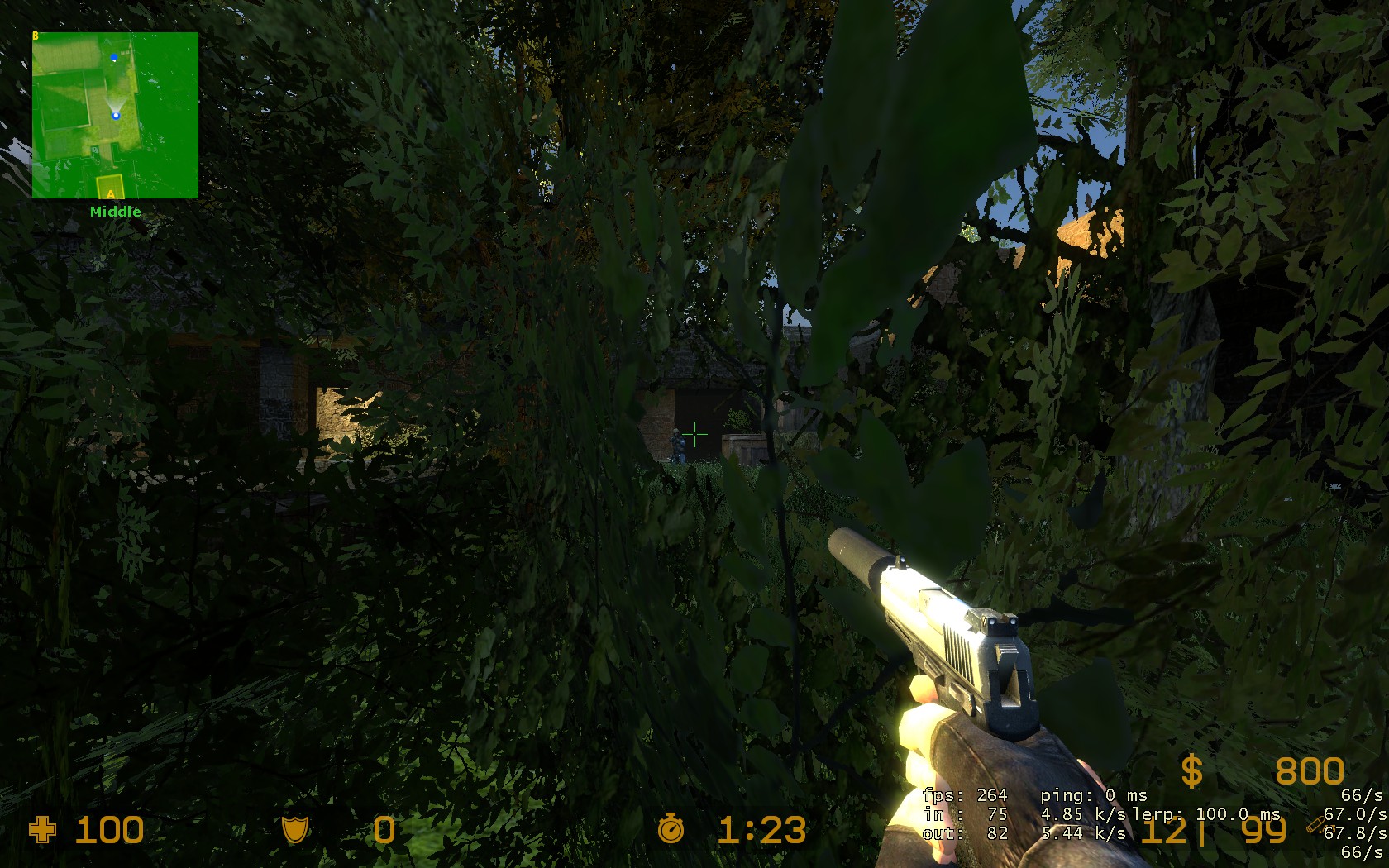 Catastrophic scenario if my teammate was on the opposing team


I don't know about you, but for me, this is the definition of unfair gameplay; I can't see a thing around me while the lurking player in the bush has me right in his crosshair.

Imagine if the player sitting in the bush is not my teammate but an adversary; he would have already put a bullet between my eyes long before I can say "what the f***". Now expand this scenario to several rounds of a player getting continuously shot round after round by ghostly invisible enemies and you got yourself the perfect recipe for rage-quitting and frustration even for the most calm and wise players.

This issue of non-solid foliage is spread across the map with bushes and short dense trees distributed everywhere even in the middle of critical paths. Gameplay is bound to get chaotic and frustrating from round 1.

To make things worse, those bushes are coupled with low lighting conditions as we have seen earlier. I invite you to take a stroll with me down the dark shadowy water underpass.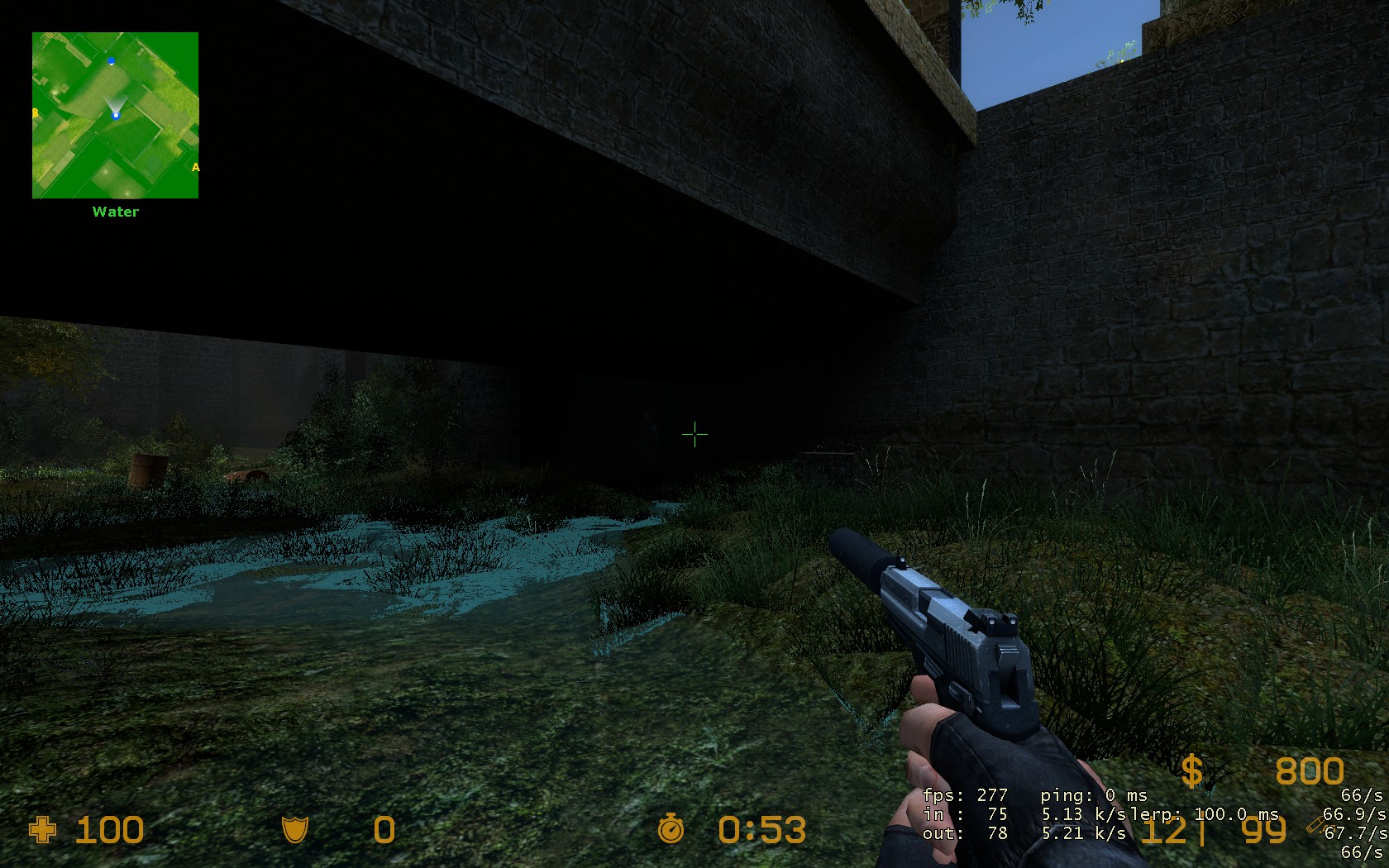 Turned out the lurking zombie was my teammate after all


As with the bush screenshot, it is hard to believe that there is another player in the above screenshot. Do you see him? No? Try harder; what's there to lose, you already got a free visit to the eye doctor from the previous screenshot.

In all seriousness, check the radar in the upper left corner of the pic and you'll see the blue dot denoting my human teammate, who was beginning to get tired of this photo-shoot.

Let me enhance that pic for you in Photoshop by cranking up the brightness/contrast and shadows' highlights.


I see him, I see him


Much better now, right? But remember that the previous pic was your actual in-game view, and if that lurking player wasn't your teammate, you would have been a spectator by now, cursing in 5 different languages and threatening to break your mouse and keyboard.

You can notice that the frustration factor is quite high in this map; players can reluctantly accept their loss if they know that the opponent was better and won fairly. But what they can't tolerate is losing unfairly and repeatedly due to discriminating map conditions.


We need solutions
So does everyone. Please wait for your turn.

After all this demonstration and the map's gameplay dissection, one can evidently realize why I said in the beginning that there is always a tradeoff between visuals and gameplay in competitive multiplayer shooters. The key word here is sacrifice.

As a level designer, you need to sacrifice some elements of visual realism for the sake of a sounder and more balanced gameplay. Players will most likely accept a not-so-visually-stunning map if the gameplay is balanced, fun and offers all players a fair chance to fight and win. The opposite is not true.

What can be done to this map to make it more viable on the gameplay front?

The number of bushes/shrubs has to be reduced, keeping only the ones that are on the side of paths. The remaining bushes should also be clipped (not by a gardener but by using clip brushes around them) to prevent players from camping inside; they will be used as legitimate cover to duck behind without peeking through and getting an unfair glimpse of the opponent. It is always a good strategy to keep the details at player height as minimal and clean as possible; excess visual clutter is the reason for premature death in Counter-Strike.

Environmental lighting should also be tweaked by raising the brightness and ambient values in the light entity. The level designer should test what values would be the sweet spot between visibility and atmospheric lighting. As before, the keyword is tradeoff; you can't please everyone at the same time.

One last note to keep in mind is that some people mistakenly think that the map should look like a flat Counter-Strike 1.6 map to be competitively viable. That is not true. You can have a competitive map that is both fair and balanced and looks visually stunning. You have to sacrifice some visual elements for the sake of gameplay but that doesn't mean you need to pluck all the feathers from your map.


In the end
We can all agree now that what works for single player shooters does not necessarily work for competitive multiplayer shooters. These competitive shooters form a league of their own and have their special set of rules, closer to competitive sports than to casual games.

There will always be a tradeoff between visuals and gameplay, and some sacrifices are necessary; however, cleverly built, a map can be pleasant and enjoyable both visually and gameplay wise.

Will2k

December 6, 2013