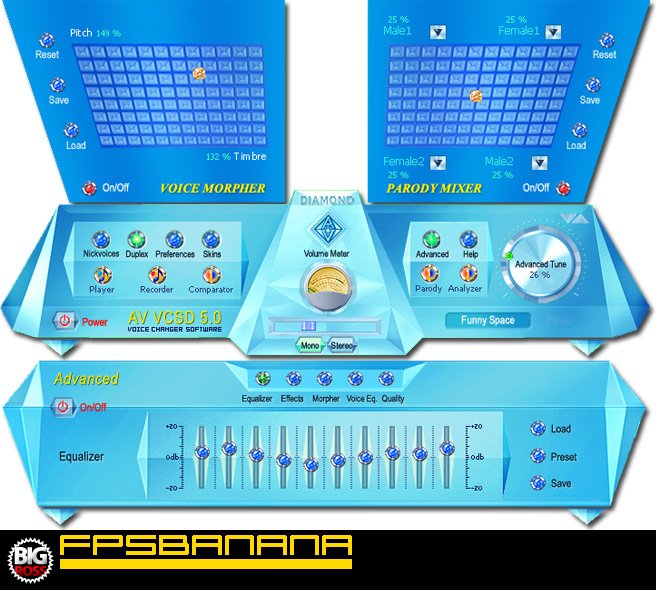 AV Voice Changer allows you to talk into your computers microphone and easy change your voice with one click. The features are below...
Do-it-yourself voice-overs Easily create your own, high quality voiceovers for movie, radio, narration...and more
Loyalty test Make a new online nickname, along with a "nickvoice", and chat with your spouse...
Fun in chat zone, phone, games... Change, in real time, your voice to female or male for voice chat, phone, online games...
Funny mp3 ringtone maker Layer effect presets and apply to an audio file; you may be surprised with some great results...
Absolute anonymity Disguise your voice completely, use a "nickvoice" to match any online nickname...
Sexier voices, self-confidence Make your voice deeper, higher, sexier.., any way you like it, in voice conferences...
Hollywood-style sound effects Make interesting movie-style sounds with our morphers, 50 effects, hundreds of presets.
Role-playing gadget Hundred of ready-to-use "nickvoices" that match any online nickname and personality...
Home audio recording studio Record chat and phone conversations, capture streaming audio and save in mp3...
Karaoke lover's gizmo Voice quality improver, voice parameter setting, real-time effects, equalizers...
Song remix Change singing voice, apply effects, and save new songs in mp3, wma...and more
Vocal improvement at home Improve your own voice by altering the pitch and timbre, record, and then practice your new and improved voice.
Funny voicemail greetings, messages Alter your voice, add effects, create funny, lovely, sexy, scary...voices
All-in-one audio morphing application Audio morphers, player, recorder, equalizers, effect plug-ins, sound quality improver...it's all in this package.
Humorous celebrity prank calls, parodies Compare and speak, sing like celebrities, or anyone else, celebrity voice samples, similarity analysis...
Voice actor tool View your voice to understand what's going on with your current voices (original and changed voices)