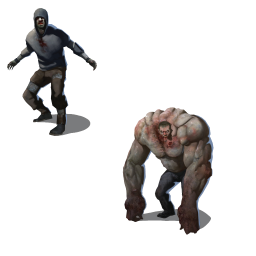 ================== Left 4 Dead Spray Pack 2
25/10/08 Version 1.0 by SimmerALPHA
A custom spray pack for Counter-Strike: Source. It features the Hunter and the Tank.
======== Installation
Unzip the .zip file to the following path:
C:\Program Files\Valve\Steam\SteamApps\username\counter-strike source\cstrike
Or the path Counter-Strike: Source was installed too. If you are asked to replace file(s), then do so. In CS:S go to options, multiplayer and then click on Import Spray. Select the image file and you're ready to go!
====== Contact
You can contact me at simmeralpha@gmail.com.
===== Credits
Turtle Rock Studios/Valve for developing Counter-Strike: Source and for providing the artwork these sprays are based on.