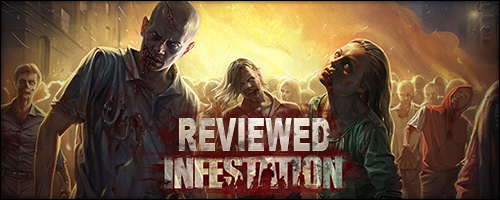 Upon booting the game, it's obvious that Infestation is still very much WarZ. Despite a beautiful landscape and - initially - a promising experience system, the scathing difficulty and pitiful micro-transactions render the game virtually unplayable.
One thing the game does have going for it is graphics. The environment in the game is beautiful and large - the one map in the game would take hours to explore! One problem I had though was the structure of the environments; there is no furniture to be found, most buildings are empty shells. Don't get me wrong, they are pretty shells, but I would expect some stuff inside. I think you can give this credit to the engine they were using. It's the Eclipse engine, used in such games as Neverwinter Nights and Dragon Age: Origins. These are both great games, but quite dated - and those games weren't good because of the engine, they were good because of the development. Although the engine makes a good landscape, the developers really didn't make use of it's potential.
![image](http://files.gamebanana.com/bitpit/2013-08-09_00002.jpg)
The audio wasn't astoundingly bad, but neither did it add anything to the environment. Everything from the footsteps to gunshots sounded generic, and the zombie moans did nothing to add a sense of terror. I feel like all the audio used in the game was stock audio, like they googled "zombie" or "footstep" and went with the first things they found. The game has no music beyond the main menu screen, and the ambient sounds – bird and crickets chirping at all times – seem to loop every second, and could be good if the constant looping wasn't so tedious. It's not just in the woods that the game makes woodland sounds, but everywhere.
The models didn't look too bad, but the animations were odd – zombies get stuck a lot, walking endlessly into an invisible intangible wall. As for the character models, you have about fifteen different classes to choose from. Each class had a name like 'hunter', 'ex-military', or 'regular joe'; yet as far as I can tell each character is the same. I would think that each class has a different set of skills, but as far as I can tell all you're really choosing from is your character's looks and gender.
Despite high claims, the skill upgrades weren't too substantial, they were things like food and stamina draining slower when you had no food, or more accuracy on guns. There were professions, but I don't know what they are as they're still in development. You get 5xp per zombie kill and the skills cost between 100 and 2000xp, which seems fair considering the meta of the game being survival; long term goals seem relevant in such a slow paced game.
Other than xp, you can also get money from killing zombies. You don't get money from every zombie, maybe once in five. On average, I was getting about $25 per zombie when they did die, and the prices in the game's shop are ridiculous. The cheapest item is a granola bar, at $400, and that's cheapest by a lot! Buying a weapon costs thousands, so it's not even a practical option to buy them. The only thing I would say is worth buying would be liquids as they're hard to find in-game. Weapons and food are simple enough to find – food being exceptionally common.
A large problem in WarZ was micro-transactions. While it seems most supplies and items are available in-game aside from the speciality items, once you die, you lose your starting equipment – bandages, food, and a flashlight. The flashlight is your first and only weapon until you find another. You often have to go through a zombie or two to get to your first weapon which makes rebounding off a death surprisingly difficult. It's really more useful to just create a new character after your character dies, for the above reasons and one other: you have to pay to revive! It takes a full hour for your character to be respawn, and until then it's useless. The game actually makes you pay to revive… While it's a relatively small number of game points, it adds up as you will die a lot. In order to keep you buying 'gold coins', the price goes down the more often you buy them.
![image](http://files.gamebanana.com/bitpit/untitled-1_copy_21.png)
Overall, this game is really bad. The pretty environment is virtually unused, and is overshadowed by directionless gameplay, a generic cityscape, and endless money begging. Infestation: Survivor Stories is a shameless repackaging of WarZ to try and squeeze as much money out of this train-wreck as they can. WARNING: DO NOT BUY THIS GAME!