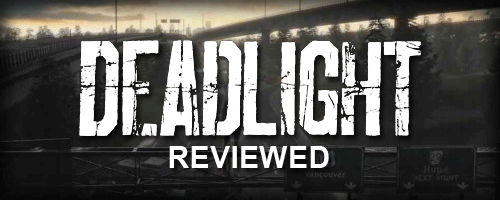 You are Randall, a badass survivor looking for his family: a man who seemingly knows pain and loss in a 1980's zombie apocalypse. Deadlight holds itself as a puzzle platformer, with Assassin's Creed jumps and traps galore. Think Prince of Persia meets The Walking Dead, and throw in a few traps for fun. Although the game is pretty short, taking me around 5 hours to beat; it makes up for it in ingenuity and atmosphere.
The story is touching, Randall – you – is searching for his wife and daughter amidst the chaos of the end times. The real enemy beyond the zombies is a group of renegades who call themselves "The New Law". They are a sadistic group who take delight in torturing and killing innocent survivors. Separated from his survivor group at the beginning, Randall's journey will introduce him to The New Law but he will still meet a few new friends on the way.
1980's Seattle is really a beautiful setting (besides the dead people and destruction). The HUD is very non-intrusive with only a small health and stamina bar, leaving plenty of screen space for the visual delights. The background looks amazing: varying between dark gritty cityscapes, dark gritty warehouses, or even a dark gritty sewer. Okay, there's not a lot of variety in setting, but it's so pretty you won't even care. The environment can be shiny and heavy with rain, or even have a crumbling building in the background, all-in-all the effects employed are beautiful.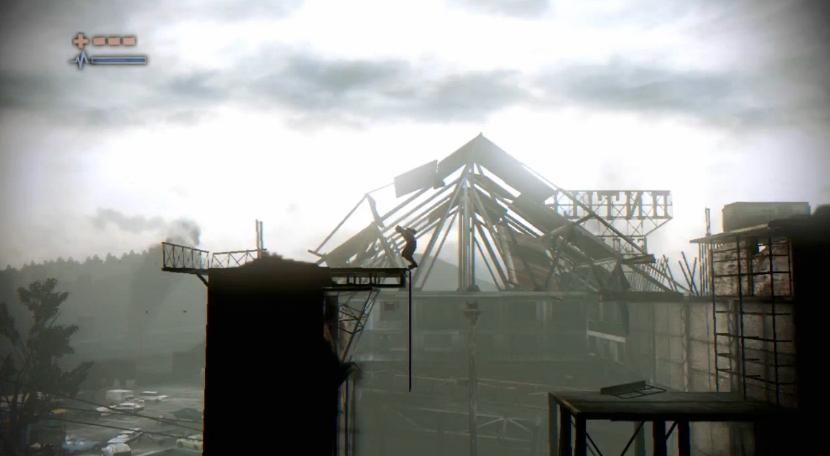 The lighting can come from lonely street lamps or neon lights: giving the zombies a Christmassy glow. This isn't the zombie game where you're a one man killing machine; these zombies will tear you apart if you get more than two at once, so you really want to run away. The sounds of these shambling "Shadows" (as the game calls them) is quite unnerving. You never know if a dead body you pass may climb up and greet you. The music isn't too intrusive, but makes use of classic horror "creepy ambiance" sounds: a DUN DUN at a surprise, a constant hum to build suspense in an area, or just some soft music to add a somber mood. Speaking of ambiance, the almost constant downpour in Rain City adds a serious tone to the usual jubilance of constantly fighting for survival against hordes of the undead. Our protagonist's gravelly, serious voice guides us through this desolate world and feels comforting, always calm in the face of tragedy.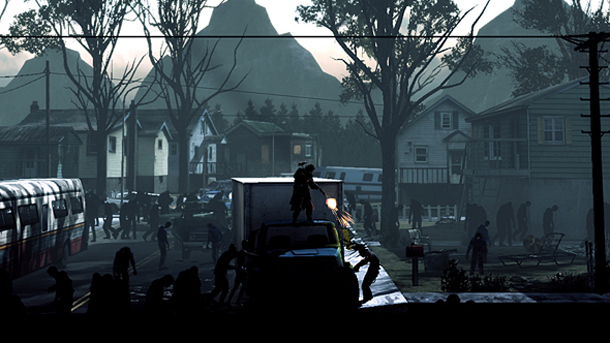 The gameplay and controls typically feels pretty solid, the controls being standard for keyboard controls, with the option for a USB Xbox controller. The aiming is tight and straightforward, and the platforming is what you're used to with Assassin's Creed or Prince of Persia. A large problem is when trying to jump vertically, sometimes Randall won't grab the ledge unless in the exact right spot or he'll just jump forward into a puddle of electricity or horde of zombies.
When backed into a corner, Randall can fend off the horde with a fire axe or a few different guns discovered throughout the story. The first gun you get is a revolver, and it takes Randall into a flashback to his first time with a gun and learning to shoot, giving a tutorial without it feeling like a classroom lecture, quite refreshing. Later on, you unlock a shotgun and an assault rifle, both useful for clearing a pesky zombie horde when running isn't an option.
Overall, Deadlight is a great story driven game -- If relatively short -- and offers an interesting perspective on the zombie apocalypse, running away taking priority to fighting, and with the climbing and jumping elements. Where Deadlight really shines is the environment. The broken city and serious tones give the setting the perfect mood to combine with danger and a feeling of loss. A game as colorful as it is lighthearted, I definitely recommend spending $15 -- or less if you wait for a Steam sale -- to experience this game, whether for the compelling story or the amazing atmosphere.