Try as he might, this mans situation is spiraling out of control.
Strap that seatbelt in because Max Payne 3 is one hell of a ride, and the best third-person shooter game I've ever played! From beginning to end; this is a cinematic masterpiece. This is the first title of the series not to be developed by Remedy Entertainment; instead, Rockstar studios have taken the reigns. The new writers have captured Max's sense of sarcastic humor perfectly and sure know how to develop an intricate story.
The story of Max's life continues some years later after the previous game where the white streaks in his hair are finally showing. After going through some complications in New Jersey, Max gets recruited by an old police academy friend as a private security guard in São Paulo, Brazil for a very wealthy family made up of 3 brothers. The family has been targeted by a gang known as Comando Sombra and manages to make off with your bosses wife. That is only the beginning of a long chain of unfortunate events.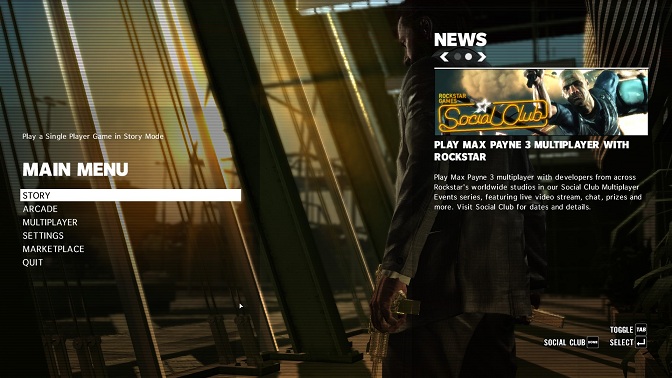 What immediately caught my eye as I was installing this game were the hardware requirements; a whopping 29gigs of space and the recommended processor is an Intel i7. Even meeting the recommended settings this game couldn't run flawlessly on the full graphics, but even dumbed down a little it looks gorgeous!
The cinematics are just beautiful and runs fluidly with the gameplay as it switches back-and-forth periodically. You get a sense of how Max is feeling because the screen does some amazing blur and color change effects during all of the cut-scenes. If you recall, with the previous two titles their cut-scenes mainly comprised of original artwork done in a comic book fashion. This game does the same thing; however, it's all animated now and is just pure eye candy. Even with the hardcore graphics they still manage to maintain that old comic book feel. I was saying earlier how the gameplay and cut-scenes would run fluidly together, well that's because they are of the same graphic quality and you never really know when you are about to play. The game does this transition so seamlessly!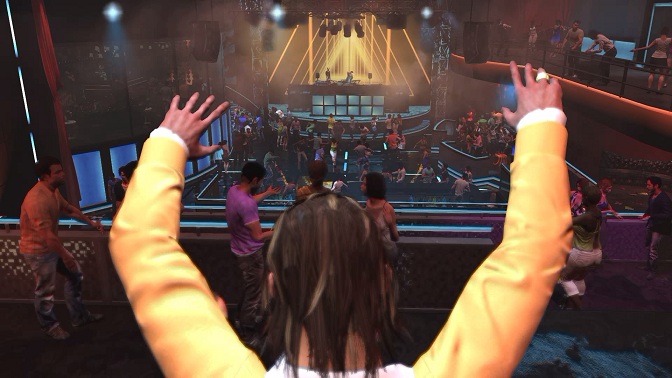 The music score was much more diverse in this game. While Max still holds onto his theme song (that sad piano one), the game treats you to a wide variety of music depending on your location. For instance you could run through a restaurant and hear some soft music or just happen to be in the middle of a club. The voice acting is also no let down. Sounds to be the same Max throughout all 3 games and I just love his voice. It is a shame however, that the parts in Brazil when they speak Portuguese are not translated. I can see it being more authentic this way…but I just want to understand them.
While playing the campaign you may stumble upon a piece of a gold gun or spot a clue. If you press ESC you will see the golden gun parts found/available for the level you are on and below that you will see the available clues. Just a heads up, the clues found are in order, so if you find the 2nd clue and missed the first then just try and back-track. Also if you press the right arrow above the golden guns you will see your "Grinds" which are like in-game achievements in a sense. If you manage to complete a golden gun and happen to find that gun on the battlefield then it will do 10% more damage and will hold more ammunition. Also a nice touch is if you happen to be holding golden weapons during a cut-scene or even the main menu then it will actually show them golden.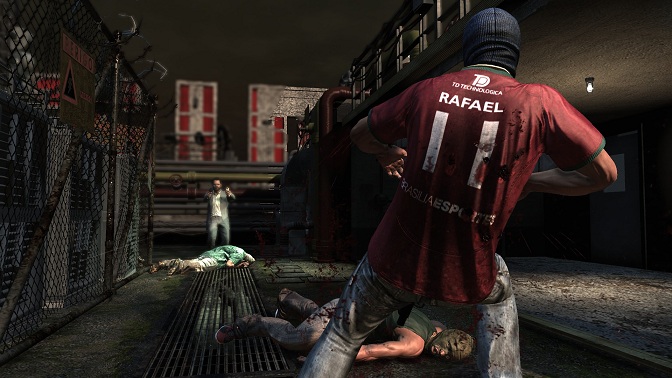 The painkillers also acquired an upgrade. Not only do they instantly heal you now, as opposed to the previous games where they slowly replenished health, but let's say you receive a fatal wound and just happen to have a painkiller handy. You will instantly go into a bullet time motion and you have just a few seconds to kill the one who almost killed you. If you succeed then the pills will be used up and you will have to recover from landing on the floor. You will not always be so fortunate to even aim at the enemy, so use the pills wisely!
Bullet time (BT) is fairly simple to use, but you will most likely use it when you don't always want to. Simply hitting SHIFT will trigger the mode and a timer will run down near your health. Tapping SPACE with any directional key(s) will have Max preform a BT dive. What's fun about the dive is that it can be used without having BT available; so it can be quite handy in the middle of a jam. You may be surprised to know that the franchise is still hanging on to their dot of a crosshair. While it is still as accurate as ever, it will now turn red while hovering over an enemy. Now there is no mistaking if you will hit your target or not. Also a nice little bonus is if you kill the final enemy in a room then you will be treated to a slow-motion close up of that enemy being shot. The cherry on the cake is that you can continue slowing down time and just unload a weapon clip for maximum overkill.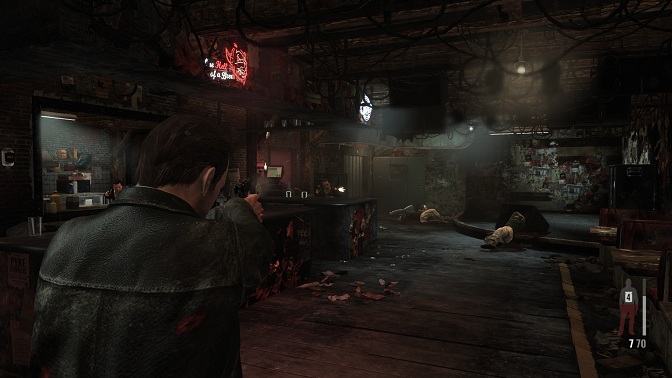 Rockstar added some new content to the franchise, like arcade mode and multiplayer. Arcade mode takes place on each chapter that you have completed and you are scored based on your performance. You can stack yourself up against your own scores, your friend's scores, or even the world's scores. What should have been taken out are all the cut-scenes between the chapters. At the end of each level you are scored, obviously, but you also get experience and marketplace money towards your multiplayer character.
The multiplayer has everything you'd pretty much expect. There is a character customization screen, a load out for your weapons, and a crews menu. By joining a crew, you will get bonus exp. while playing alongside your team, and you will be involved with crew feuds; which is mainly about killing rival crew members. You can join up to 5 crews at one time, but I honestly don't know why you would since you can only choose to be in one at a time. BT is included during gameplay and only affects those who are in front of you. At the end of each match you are given a fairly detailed results page showing accuracy and what-not.
Max Payne 3 is easily one of my favorite games of the year, but there are some things I would like to see updated. During the game when you come across a weapon on the floor you just see its shape/silhouette and I'm not someone who can easily identify the shape of a gun, so let's say that I have found all of the golden gun parts for the FMP G3S.While that is great and all, I have no idea what gun that is or who might be holding one. I was also talking earlier about the cut-scenes still existing within arcade mode and while that is a problem, it would be nice in general if there were an option to not show cut-scenes anymore after you have completed the game. Don't get me wrong, the cinematics are immaculate, but if you are replaying the game then you already know what to expect. I just want to be able to get right to the action, and sometimes the load times are so long that I won't even get to skip them.
Rockstar has really outdone themselves. From the intricate storytelling, to the breath taking graphics/detail, this game just manages to hook you immediately. Most improved is the replay value. From just going back in the game to find what you have missed (golden guns, and clues), to the arcade and multiplayer modes, this title should leave no one disappointed!