Just when you thought this mans life couldn't get much worse.
Max Payne 2: The Fall of Max Payne is a violent, film-noir love story. Dark, tragic and intense, the in-depth story is a thrill-ride of shocking twists and revelations. Love hurts.
Max Payne 2: The Fall of Max Payne was developed by Remedy Entertainment back in 2003, who are currently known for the Alan Wake. This is the sequel to Max Payne and will be followed by Max Payne 3. This game did poorly on the market and got little praise compared to its previous title. However, it did receive a couple awards such as: Outstanding Art Direction at the Golden Satellite Awards '04 and Editor's Choice Awards from GamePro, IGN, and GameSpy.
The game focuses on Max Payne 2 years after the events from the prior game and right after he has cleared his name. Now back on the NYPD as a detective, Max Is investigating a trail of murders left by a contracted "cleaning" company. During which time, he runs into Mona Sax who is currently wanted for the murder of a senator. She is thrown into jail despite Max's pleads and during which time the station is broken into by a group of cleaners who are trying to kill Mona. She manages to escape a locked cell, yeah I called that one too, and escapes along with Max as they search for answers.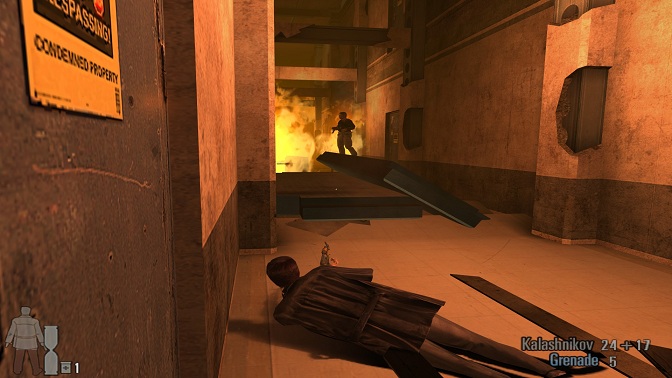 From the menu screen you can access a "Previously" mode which replays the story of Max Payne. The first things that I've noticed were the crisp new comic art styles and the terrific voice acting. Another new aspect to the menu is a "How to Play" screen. This just shows a nice visual graphic of the default keys; changing the keys around will not affect the image.
They really stepped up the cinematics on this game. All of it was fluid with the gameplay and I never once had the desire to skip it, which could not be also said about the previous game. You could tell that the developers had a much bigger budget this time around. The gameplay was vastly improved compared to the previous title as well. There are several reasons to which they can be accredited to this: crosshair accuracy, bullet-time improvements and now you don't take near as much damage as the first game.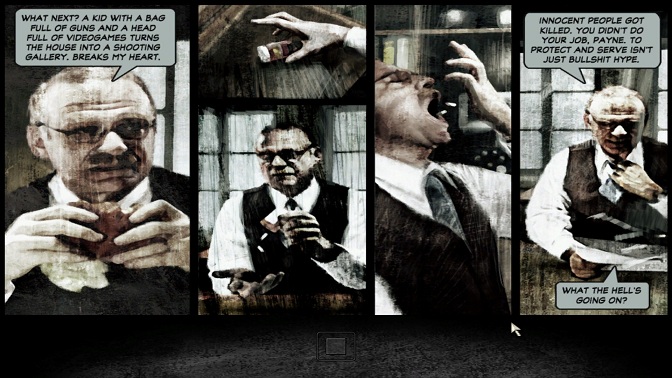 As you may recall, the first game had a dot for a crosshair and it was an extremely unreliable and inaccurate dot. Now, even though the crosshair is still a dot, the programmers really have zeroed in on pin-point accuracy. However, the same can't be said about dual wielding, but if I can snipe a guy from afar in the face with a desert eagle then this only makes things easier and way more enjoyable.
What also needed a major update was the bullet-time feature and it sure underwent one. Even entering the mode was tweaked! If you recall, during the first game if you were not completely still before entering bullet-time then you would do a leap in the direction you were moving. Now with entering/exiting the mode and doing a slow motion leap split up between two buttons, you are always in control. During your slow motion endeavors, if you were to reload, using any weapon, you would do a neat spin move with the camera following. It made for an interesting effect but it does get old after a while. I wish each gun had its own special bullet-time animation. The last thing that makes this mode so great now is ragdoll physics. Even though the whole game contains it, you just notice it more while in bullet-time. Like shooting someone in the face and watching their body just free-fall down several stories is just mildly amusing to me.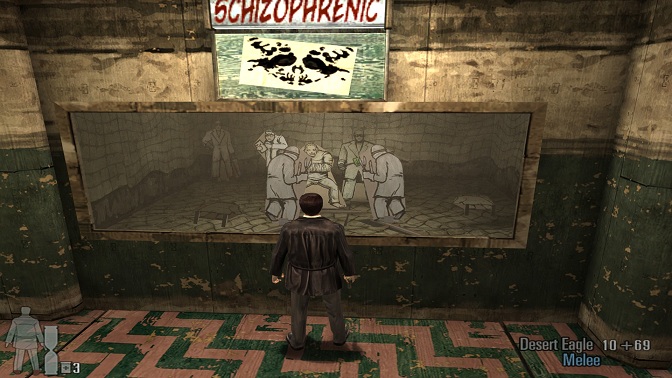 Another new aspect is the ability to play as Mona Sax. This only happens like once or twice during the story, but the only thing that sets her apart from Max is her sniper rifle. What is cool is how as you're playing as Max he will talk to Mona using a walkie-talkie, and then when you switch to Mona you hear the other side of the conversation.
What I probably loved the most about the last game were the creative trippy maps, like following a trail of blood in a pitch black room or running through extending hallways. This game tried to ramp is up even more, but at the same time giving me a headache. One of these scenes took place in an apartment and you could just stand still to see the walls warping and swerving around you; moving just amplifies it to the point where it looks like you are moving warp speed. It did get a lot weirder later on like running through a hallway with no ceiling and you are just looking up at the red sky. However, the game did end up delivering on the creative/creepy map designs that I was so yearning for. During a couple parts of the game you will find yourself at a fun house that is mirrored after some fictional TV show called "Address Unknown". Inside you will find some very creepy cardboard cutouts of people in odd situations such as: being experimented on, trying to restrain an inmate who's in a straightjacket and inmates being forced to look at inkblots.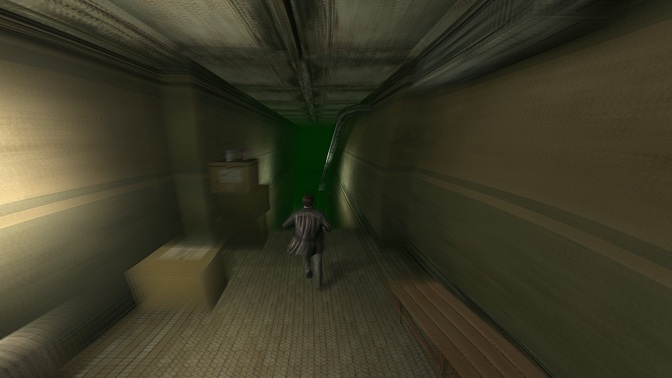 Beating this game did not feel as near an accomplishment as the last game. That last game was just so hard that it comes with bragging rights if you can beat it, but this was a rather short game and not near as hard in comparison. Even since this game was vastly easier, I still prefer it. The gameplay was really knocked out of the park. Also if you thought the last ending screen was lame for all of your hard work then this just takes the cake. It doesn't even waste it's time telling you what you have unlocked. So, beating the first difficulty, detective (was fugitive on the first game, get it?), will unlock the next difficulty, hard-boiled, as well as The New York Minute, Dead Man Walking and Jump to Chapter. The NY Minute is the same as before; you have 1 minute to clear each level. Killing enemies will extend your time. Dead Man Walking is a survival mode where you are put in a map that is constantly spawning enemies. Your goal is to stay alive as long as possible. Jump to Chapter should be self-explanatory, but you can choose to replay any part of the game. Beating the Hard-Boiled difficulty will unlock the final difficulty, Dead on Arrival.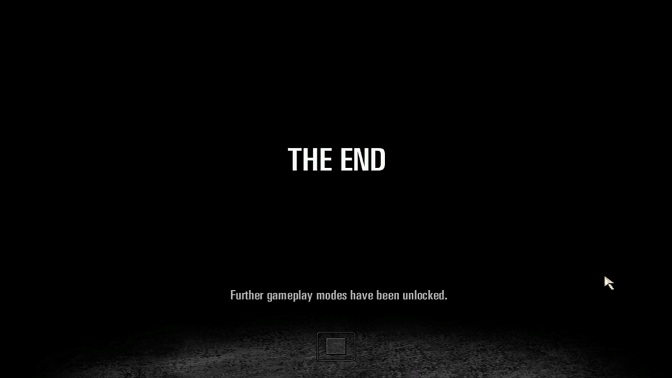 Overall I was very pleased with the game. The developers took all major negatives from the prior title and made them huge positives. The cut-scenes are enjoyable to watch, the dot-crosshair is finally reliable and accurate and bullet-time is no longer a liability. However, the game was a little too easy and rather short. Can't wait to check out Max Payne 3 next and see how a title 9 years later stacks up to itself!