Even the worst blizzard in recorded history won't slow this man down.
Max Payne is a man with nothing to lose in the violent, cold urban night. A fugitive undercover cop framed for murder and now hunted by cops and the mob. Max is a man with his back against the wall, fighting a battle he cannot hope to win. Prepare for a new breed of deep action game. Prepare for pain...
Max Payne was developed by Remedy Entertainment back in 2001, who are currently known for Alan Wake. This game was the recipient of many awards during that year such as the Golden Joystick Award and Best PC Action Game by BAFTA.
The game starts off with Max Payne, a rogue cop, standing atop a skyscraper looking off into the distance while holding a rifle and the police charging in behind. Then the game cuts straight to a flashback with Max returning home to find his house broken into and family murdered by junkies that are doped up on a new substance called Valkyr; Now present day, Max has transferred to the DEA and finally got a lead to where some of the distribution of Valkyr was going down. So he goes undercover and in short gets discovered by the mafia and has become framed for the killing of a cop. So now Max is wanted dead by pretty much everyone and their mothers.
The first thing that caught my attention was that the sound didn't even work with Windows 7 or Vista. Fortunately, one of the developers has created a converter so the operating systems can play the music/sound.
One of the best aspects of the game was the voice acting. There is a ton of dialog and its top rate. You get to experience the voices mainly through the cut scenes, which are mostly comprised of a comic strip and a voice over. Rarely will you be treated to a cinematic, but that's how it goes. This wasn't a very high budget game. The music score felt fairly generic and many of the songs sounded similar. Overall, the music fits any scenario that you might find yourself in so well that you may not even notice.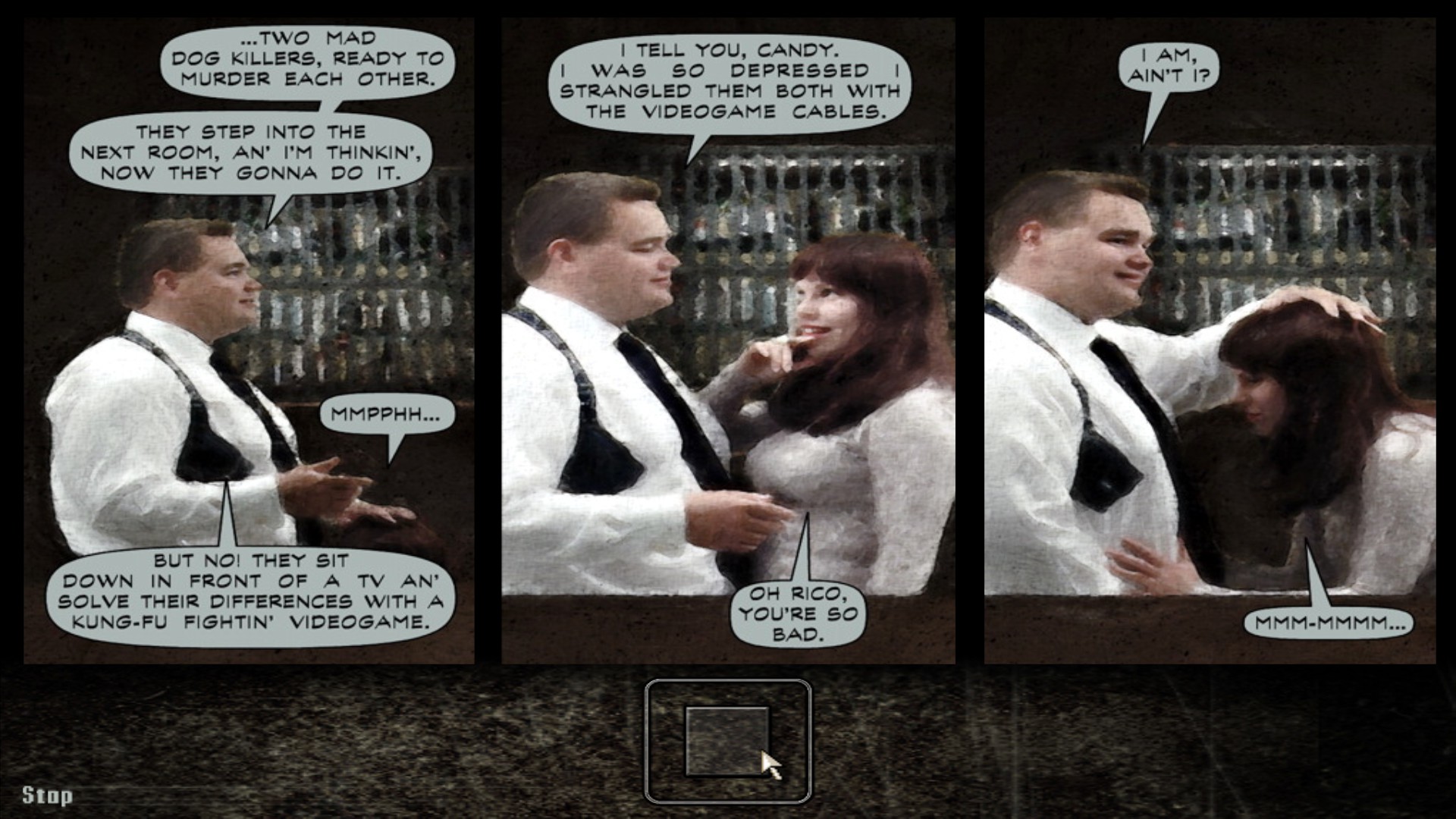 I do not know many harder games than this. I seriously feel that I have died more in Max Payne than I have on Super Meat Boy! I also want to point out that for your first time playing through that you have to choose the easiest difficulty, Fugitive. I can't imagine the game being much harder than it is. You know there is a problem when you have to press F5 to auto-save after you kill just about each enemy.
Here's a fun fact, Max Payne was the first game to introduce a bullet-time feature; Of course, the idea was taken from The Matrix two years prior. Generally one would consider bullet-time to be useful and this is anything but! To enter/exit the mode you just simply right click, but be careful because if you happen to be moving in any direction then you will end up doing a slow moving mid-air dive/strafe. The biggest problem is the recovery time from that dive; you just end up waiting to get up while you could be shot at. Also not all dodges will avoid a bullet. You may just dive into a buckshot!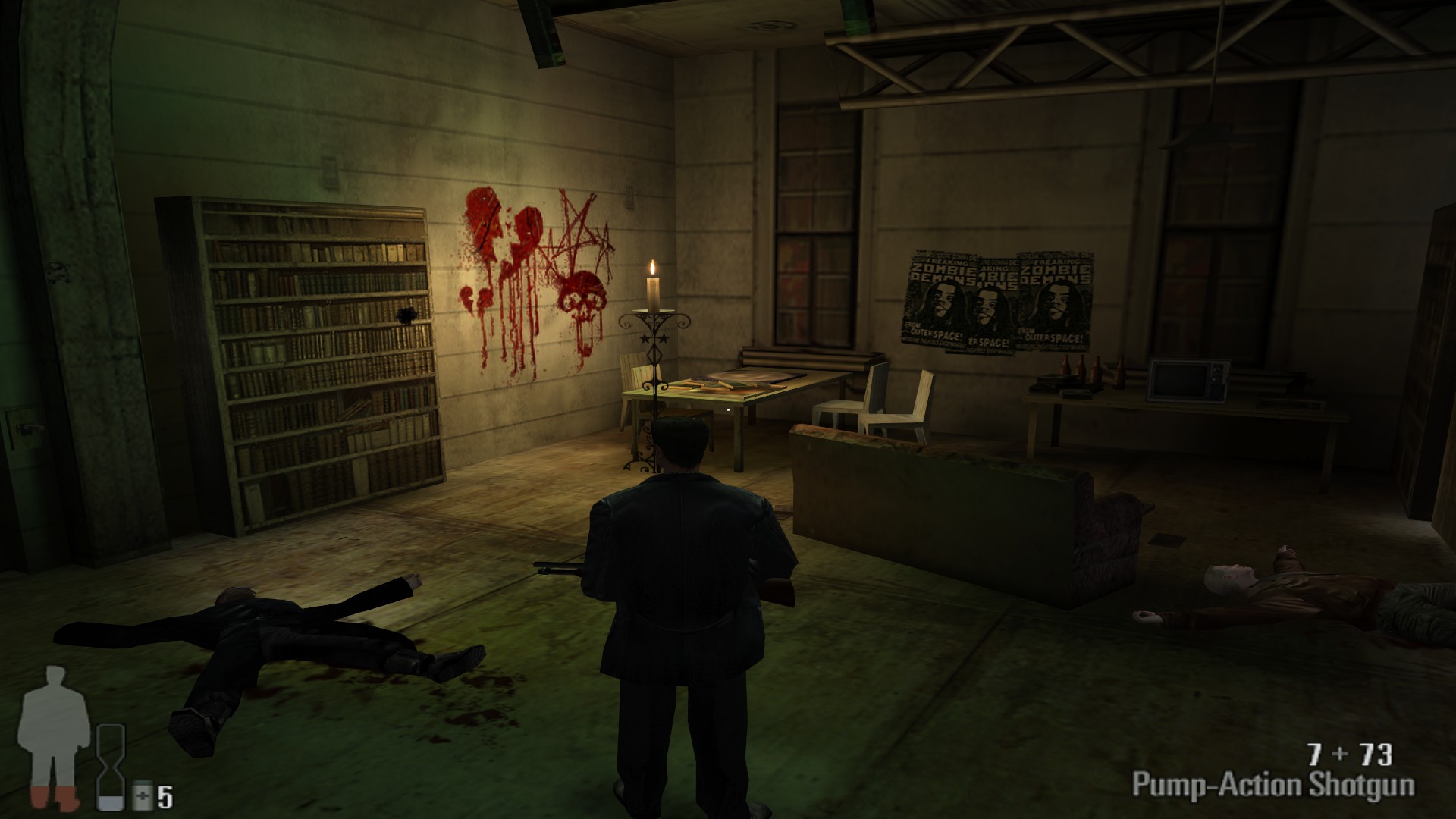 There are a couple key reasons as to why the game is so difficult. First, the crosshair is a god damned dot! Why is that such a big deal you ask? Because it is the most inaccurate dot I have ever seen. If you can't rely on your cross-hair to aim then what can you rely on? Secondly, the bullet-time feature which I have already gone on about is just not perfected. The last issue is healing from your painkillers. It is nice that you can hold up to 8, but they have a very slow heal time. If you have almost no health left and decided to go through about 4-5 painkillers then you have plenty of time for a smoke break before you are fully healed. So if you are in the middle of a major fight and had to go through that scenario of no health then you'd have no time to fully recoup unless you could find a safe spot to last long enough.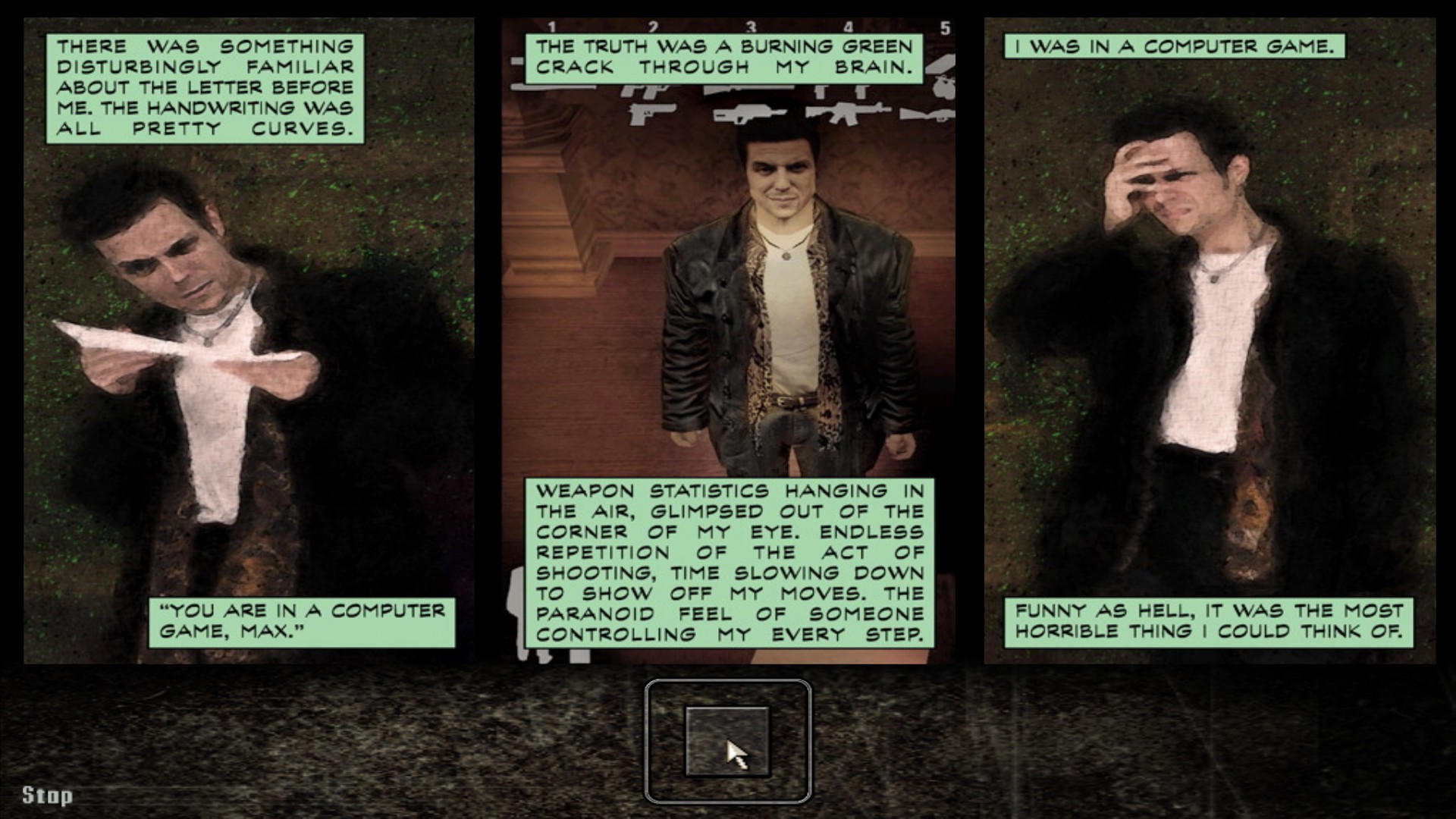 During the prologue chapter for each part of the game, Max will have a nightmare of the incident 3 years ago. Some of the nightmares will be really trippy: like having to follow a narrow line of blood in a maze, hallways stretching too far, and you will constantly hear screams of your family. I love map designs like this!
Give yourself a big pat on the back if you managed to complete this game because the ending screen does not do enough justice for all the hell you just went through. Upon completion you unlock 2 new modes: Hard-Boiled and The New York Minute. Hard-Boiled is just the next difficulty and if you can beat that then you will unlock the hardest mode; Dead on Arrival. In The New York Minute you only have a minute to complete each level. Extra time can be earned by defeating enemies and at the end of each part you will be given your net time. If you are some kind of badass then you can go up against Remedy's par times!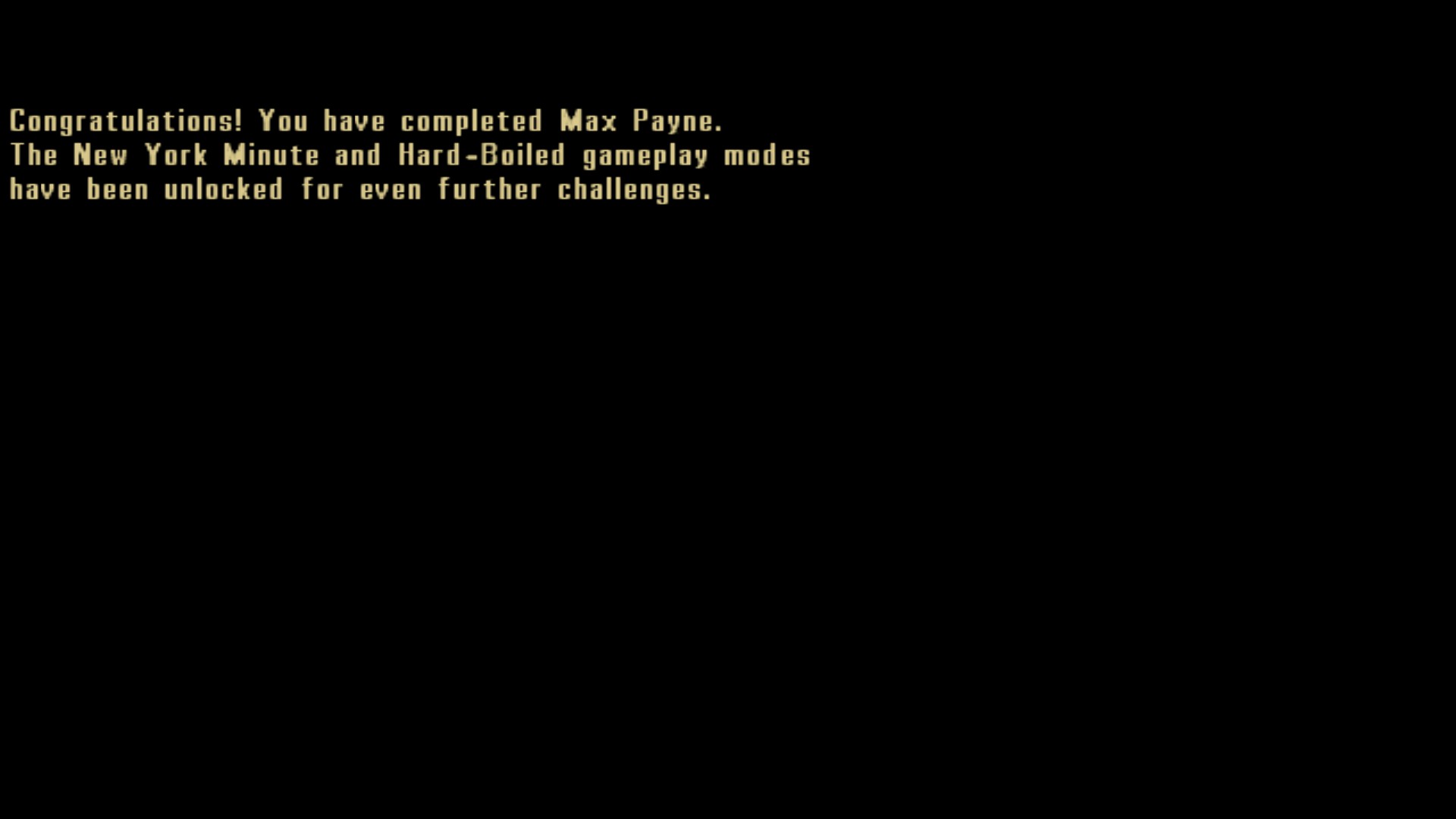 Being this was the first time touching the series, I had a lot of expectations; especially after all the awards that were won. The only edge I could see this game having on the competition from 2001 is from having bullet-time; especially during the Matrix craze. I realize that bullet-time is a brand new feature at this time, so it is not anywhere near perfect, but someone had to pioneer it. It is unfortunate that my two favorite aspects doesn't include gameplay, but rather: the voice acting, and the creative/trippy map designs. I hope to see the bullet-time feature improved when I take a look at Max Payne 2 next.