Futuremark Game Studios third released title is one of those Tower Defence games; I know I know, yet ANOTHER tower defence game, but hear me out!
The Unstoppable Gorg isn't just any ol Tower Defense game; it really does stand alone in the genre. They've put their own spin on the gametype by limiting the building locations and adding in movable slots that orbit around your central base. It plays like a hybrid between a puzzle game and a tower defense game as you struggle at times to find the optimum location to position an orbit during each wave along with the appropriate defenses in each slot; a good way into the game you'll find there really isn't any 'single' location to leave an orbit to defend your base and will be constantly moving the orbit location around your base or moving a particular turret in line with an enemy unit to whittle down its health – downright necessary for the really BIG baddies this game throws at you!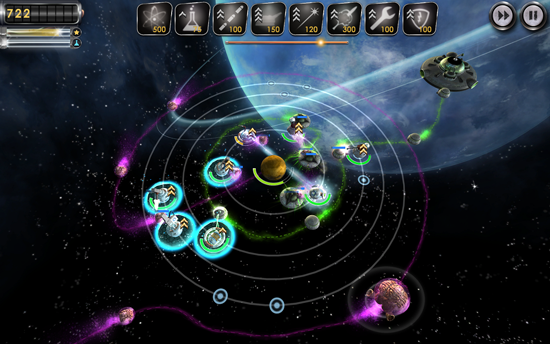 The games premise is simplistic by design: In 1950, newly discovered lifeforms – the Gorg – on Planet X are hell-bent on humanities destruction and so now you – Captain Atom – must save Earth from certain destruction at the hands of this massive armada! Things get worse as the Brain Riders and Sunbots join the Gorg in wiping out human colonies throughout the solar system.
The unique gameplay alone makes this a game worth buying but Futuremark went one step further and created that cliché story which has the worst dialogue, acting and cinematic quality I have ever seen; and I absolutely LOVE IT! Going full out with a 50's Sci-Fi theme they re-created and re-used a lot of stock footage to deliver the best that old B-Movie films can offer – strings included! Each new film shown between levels is what drove me to beat the entire game in 20 hours (minor break for sleep) as they are so expertly done in mixing old stock footage with new CGI that mimics the old 50's techniques for special effects; the voice-overs during newsreels are dead on. I would almost think they hired the same actor that was used in the opening scene from Pixar's UP as the tone, pacing, and outright hilarious motivational talks are fun to listen to. Every part of the story in this game right through to the end is over the top exaggerated which is exactly where it should be. You can get a taste of their style via their launch trailer.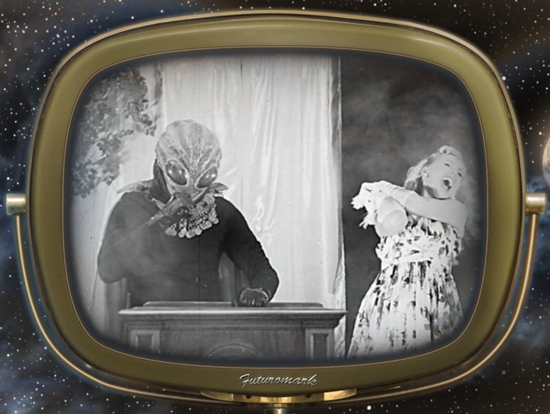 King Gorg and the ever so helpless Miss Arielle!
They've really stuck to their Classic 50's Sci-Fi theme all throughout the game, the menus alone are rather impressive in their design – Panic Button included – and overall layout. I found myself looking at just about anything but the places I was supposed to be looking at just for more tidbits of info or quirky notes scattered around.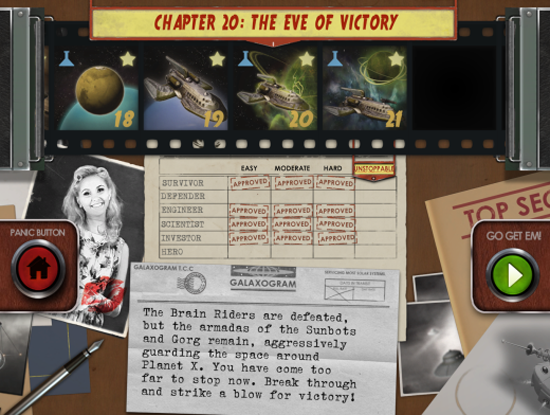 With the Unstoppable Gorg I fully recommend playing with the music on and turn your own stuff off! The sound design that went into this game is perfect, no need to ruin it with modern junk puny human. It's upbeat and rings true for the 50's theme as all the old sounds and effects from days gone by make an appearance. It blends spooky alien overtones that we've all heard before (Mars Attacks anyone?) with some odd sounding Saxaphones? And it works well. The SFX for in-game events is equally as polished; at times I get flashbacks to old arcades with their antiquated sound systems and others I can't help but think of Marvin the Martian cartoons that are made with practical sounds rather strictly than synthesized. The explosion sound could have been a bit more varied in my opinion as it will get played a lot – naturally – but that's really just my own preference being an audiophile. Every satellite in the game appears to have its own particular set of sounds. I can't think of any that use the same sound-set as another; so, even if you're not paying attention to a certain part of the screen you can instantly know which satellite was just activated by yet another oncoming wave of enemies.
There are a total of 18 different satellites to use – although I'll admit that I never used a few of them – where each is classified as a support or offensive satellite with the addition of some fire-and-forget weapons like the Atom Bomb. Supporting satellites are generally ones that boost other offensive satellites abilities, generate 'research points' or slowly earn money for you to spend. The most important supporting units would be the generators ($$$), research station (Upgrade Tokens), and the repair station that will heal any damaged satellites regardless of distance; I never really used the others all that much if ever – a shield station is rather pointless if you can just repair everything automatically.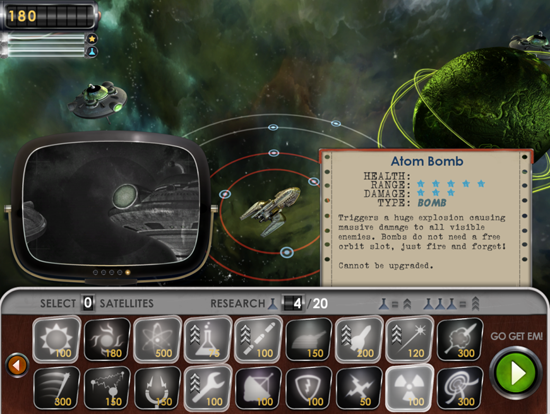 For the offensive satellites I found myself using all of them save the gas rocket and sweeper which didn't really add extra benefits over the more conventional options (Missile Launcher and Space Ray). You're only ever allowed a certain number of satellite types on each level and those two never really made the 'need-to-have' list. A combination of Space Rays, Missile Launchers, and Vulcan cannons can get you through almost all the levels alone as they can take care of each specialty fairly well. Bombs are useful when the habitat is about to be overwhelmed as all Gorg units on screen will be damaged if not outright destroyed!
The Arcade mode is my favorite extra gamemode in any game, it promises endless fun and entertainment without pause – something nice to come home to after work no? Even if one's work involved playing it endlessly to review it heh. This mode is actually dynamic depending on where you are in the storyline which is great since nothing will be spoiled and the story helps to explain strengths and weaknesses for each enemy type; however, it is fun to play arcade mode right after beating the first mission as you'll only have to worry about a few rather low-level Gorg units rather than the entire games armada being thrown at you in addition to any environmental hazards (radiation and asteroids really put a damper on your effectiveness).
Once you've built up a fairly good defense (20-30 waves in) and only have to spin orbits now and again between each Gorg wave, the arcade mode does being to lose some interest. I was able to use two Repair Stations and a mix of Space Ray's and Missile Launchers (all fully upgraded) to reach level 79 before my eventual defeat due to making myself a sandwich at the time. Overall I still do love the gamemode to death, but it could have been made more interesting by imposing some modifications to the playing field (orbits become temporarily unavailable, refuse to spin or won't stop spinning etc) between random waves to add to the excitement rather than the standard introduction of environmental hazards and more/bigger Gorg units being thrown at you.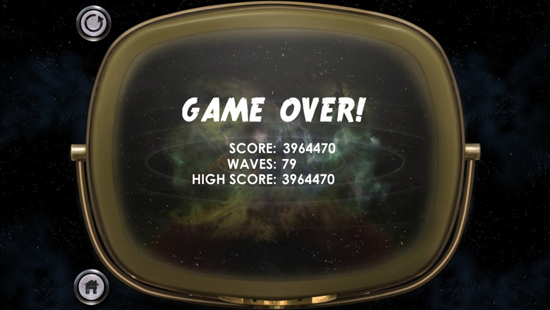 The other added gametype in Unstoppable Gorg is the Challenge mode; these challenges are the same levels from the storyline but with extra modification factors added to make things tricky. These modifications may be lower health on objects, locked orbits, 1 hit KO, limited satellites, random enemies, faster enemies and so forth. These challenges start off somewhat easy but quickly get very very difficult in the later levels. Even on the moderate difficultly I found the regular story levels nail-bitingly difficult, removing the number of orbits I have available alone makes them close to impossible to beat without some fancy maneuvers and quick responses – where this game really excels!
The Unstoppable Gorg is unlike any other tower defense game I've played. The hugely entertaining storyline and cinematic presentation will make you cringe in absolute delight!