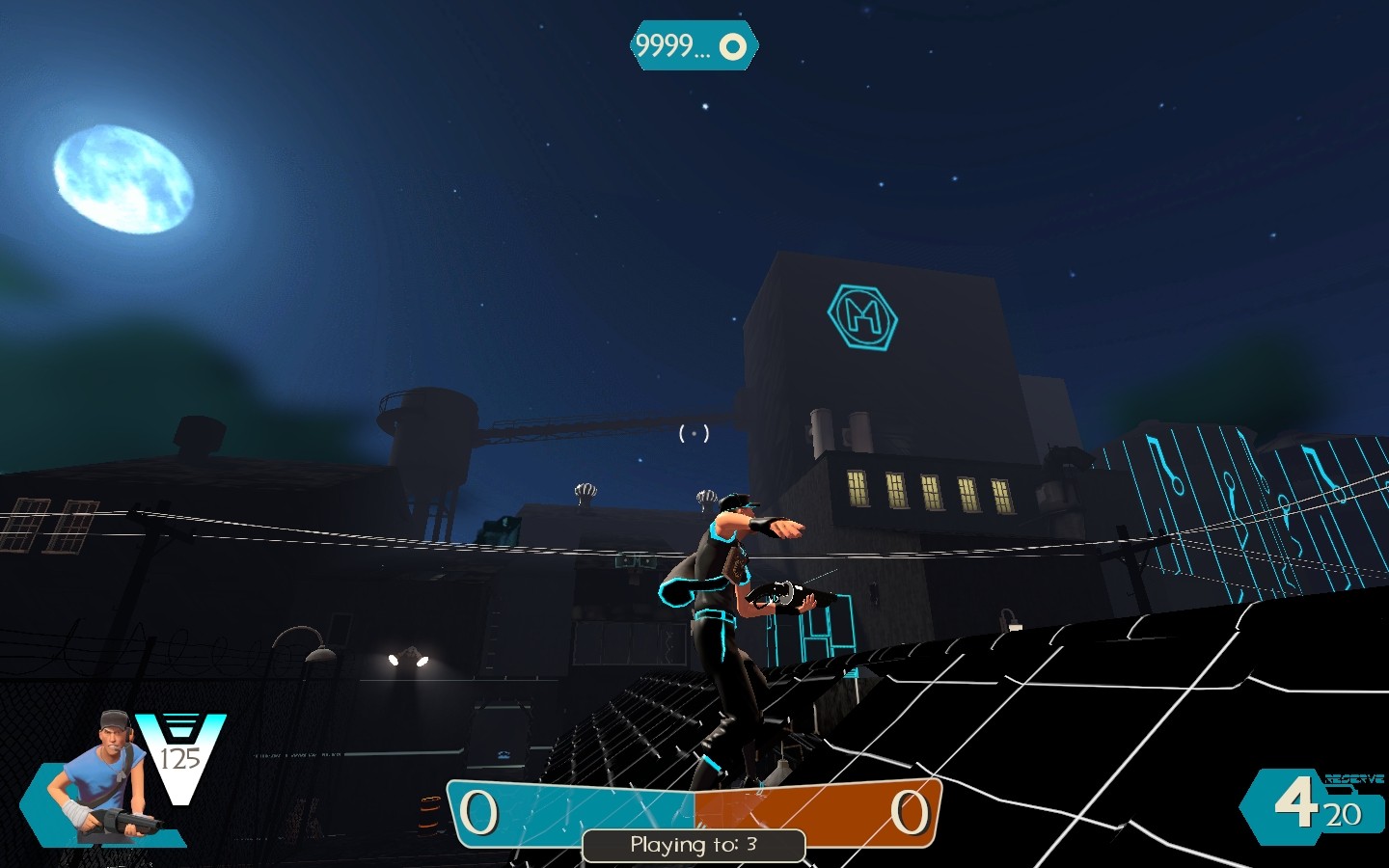 WAY WAY WAY TO FRAKKING OVERDUE BUT HERE IT IS:
here is the official alpha: Tron-Fortress ALPHA Map textures
i didnt have time to finish the signs but everything else SHOULD be done (map textures, walls, ect)
no props at all in this upload, use older one till i get a new one done
these are the older uploads im still gonna keep on mediafire if anyone cares
http://www.mediafire.com/?4ecry6c04jtq1n2
And here are the props in a separate file as too large for mediafire's 200mb limit
http://www.mediafire.com/?o7897156jwb8tpy
SUNDAY UPDATE:
added some halfarsed screenshots
added one skybox (temporary as 2fort just looks like shit without it, still need to redo the tower though as i dont really like how it came out (i can add a better 3d look as it ended up looking a little bit too flat imo)
working on skyboxes and finishing up the 500+ or so signs i need to tronify, trust me this is taking forever lol.....didnt notice there was so many signs until well i actually sat down to really get the job done....
SATURDAY UPDATE:
im also going to start adding props bit by bit into this upload as im too lazy to make another mediafire upload for just props, srry for any inconvenience
basically fixed alot of signs and added many more even if all signs are not yet complete. spent quite a while redoing all the vtfs as i used the wrong mipmap setting by accident and all the signs and decals looked blurry from afar which totally ruined the immersion imo. fixed a missing texture as well i noticed earlier and just added more of the signs i made, so now many should be tronified.
also trying out a few adverts im working on which may or may not be in the final release since tron according to what i was aware of didnt feature any sort of buying/selling or market system, for now i just use the generic term credits for item sales since many sci-fi vids have such a concept instead of physical money, again experimental as im not realy sure what road im gonna go down in the end.
finally im starting to redo tiles from scratch as i really think they could use a better texture which isnt as glowy as the one i have but also contrasts with the more dark colored generic rest of the walls/cielings/nature stuff
also added a few files from teh old tron fortress pack (wilcox's work i believe) since its way too much work to do every single thing especially if another pack does a moderately good job on a specific texture i liked from that pack.
overall there shouldnt be too many issues now, please refrain from commenting on missing signs until i officially say that those are completed and ready, textures are still fine to complain about (if they are missing that is)
i will upload a few screenies later today or tomorrow, dont really feel like doing that right now
now i know there may still be missing textures, so until i officially finish the signs plz dont complain about those but please tell me about any missing map textures you notice as i cant test every single corner of every single map without some help from teh community
any missing textures please give me a map name, and approximate location or if you know what the actual filename (eg materials/metal/metalwallxxx, or whatever its called) id appreciate greatly if you post a message in the column to the right explaining as detailed as possible where it is missing or filename
some stuff im not too happy with like the current tiles (at least they arent too bad but i dont either really like them as is), and snow is completely experimental as i tried a corruption effect and personally didnt think the color scheme fit very well so its now black/white, have any ideas on what would look good and maintain tron theme plz post
rest im pretty happy with although i will add more variety to teh mix (sinc e i basically reuse like 30-40 textures right now, and i easily could give each wall material at the least a different shade or design like tf2's original crap had)
signs will be released ASAP (i hope saturday but i cannot absolutely guarantee this deadline as i do have a life and cant mod 24/7)
props are being done but sofar they are not going very fast as it takes a long time to do so many models, not to mention it can get sortof tedious at times
im about 10% on the new props if u want an estimate
also experimenting with a new refracting effect (its added onto one entity in the egypt and lakeside maps so if u want to see what it will become go on one of those maps) which will give a realistic looking tron style shield hopefully once perfected (like seen in tron evolution in the cities)
only deviation from the legacy style is the egypt maps sincei decided to base those on the bostrum (or something like that) colony in the evolution game which did have green glow instead of the usual cyan/white/orange, i think ill stick with it for now as i think it came out nice and is defenetely a nice variation from the normal theme (like the egypt maps were in teh normal game)
one final note, i did change the red and blu logos to symbols instead, i personally prefer it this way as i never thought red/blu fit anywhere in tron fortress but if people would like an optional version with the original red/blu logos and not my symbol based ones (easily visible on trains and now in bases) i will upload one lateron, just please post here if you request this, i wont just do it unless people actually want such an option