By

2 years ago

Yet another major section is being created to give a proper home to submissions that have been spread across news, threads, and wiki postings. The Articles section will be home to our very own GameBanana Legends interviews, Developer Interviews, and other general articles covering GB and modding topics. This way those articles can easily be found before and after the fact as they won't be buried by other submissions within news and threads, and wiki's of course just not being a much travelled section to begin with. There are already a few written pieces ready to be submitted there once tom gets the whole thing up and running. He has been busy working on quite a few other new additions too.
Rating pages will also be given some proper treatment in that they'll have the same posting system as seen elsewhere – you'll be able to edit and remove them! No more embarrassing spelling mistakes or regretful posts.
Tom's also been thinking about the devhub as of late, researching some possible new features to add to WiP's and/or the models section to help authors show off their work through a possible in browser model viewer via some WebGL magic.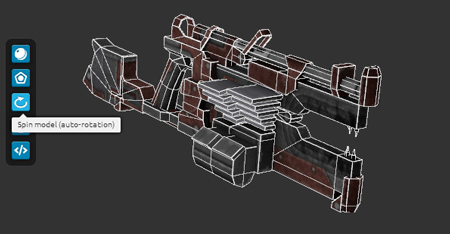 In addition to displaying 3D models, videos are soon to be supported in the Media tabs on submissions. A nice and easy way for video producers to add their previews to skin or map submissions without the hassle of having to wait on the author to add it to their authors notes section. Just upload your video and that's that.
As with any week, a whole slew of bugs have been fixed up so be sure to keep submitting anything that catches your eye to the bugs section!
Points Points Points, what's next?
Old – and I do mean OLD – vets will remember a comment level system ranked from 1-5 where the starting level was 2. The thought behind that system was to give those with good posting history and helpfulness extra points with each post they made; so, instead of getting 2 points per post they could get 10 points at a higher level. Tom is thinking about doing something similar again but tying it into the existing Exemplary Feedback levels. An EF count dependant point yield for posts, details as to the actual weighting are still in the works but the concept appears sound. If you've proven to be helpful and informative in your postings, why not be rewarded more often if you keep with that same attitude? Some improvements to the point meter are also being planned, in addition to point awards/deductions when returning/absent.
Staff Openings
We're still looking to expand our writing staff and are working at improving the benefits that come with these positions too! More details on that latter bit to come in the next few weeks. For a current listing of jobs available, check out the GB Jobs posts here. While not expressly listed on that page, game reviewers and those who have interesting ideas for articles/modding commentaries are more than welcome to send in an application too.
Contest Watch
The Red Planet contest just came to a close, you can check out the amazing submissions here while the judges continue their scheming behind closed doors. The CS:GO contest is still in full swing and there is plenty of time to join in the fun!

Developers Hub
A few WiP's caught my eye this week, some already released so they're not included below and I'm sure there are many more interesting tidbits through the section so give it a browse.

Skin of the Week - Demoman Mitigator Pack by BANG!
There are a total of 5 separate items in BANG!'s latest release: The Bulkhead, The Wee Willy, The Scottish Fire Cracker, Willys Blasting Caps, and the Tobor's Scar.

Map of the Week - cs_hotel by FreshCA =================================
Professional terrorists take over a hotel and threaten to take out hostages if the Police don't cooperate. Police sent a SWAT team to rush in the hotel from the parking lot to redeem control.

Model of the Week - Multi-layered Rig by Se7en
=================================
A must-have rig for all your needs! Animators looking for a good rig to improve CS:GO's animations should look no further than Se7en's latest release.

Last Word
So we've seen quite a few submissions for Black Mesa Source already -- granted they're mostly recolours as with any new game release -- but I want to know what you think BM:S is missing that the modding community at large should work at getting into the game ASAP?