A flooded world without Kevin Costner!
There is a lot of story exposition at the start of this game -- rather interesting if you don't mind the cliché AI speech -- which sets the stage for the game quite well actually. This is an early demo (not by much given the Nov 17th Release Date) so some of my concerns could be addressed in the final release; I would love to see better lip syncing of characters facial animations to the audio - recent StarCraft II scenes come to mind. To sum up the story around Anno2070: global warming has melted the icecaps which have then flooded coastal regions around the world; so now, there are two major factions/corporations scrambling for control and they want you to command one of their arks.
The Anno series of games - unsure why 'Anno', well, that's just a fancy way of saying 'Year' - are quite numerous: Anno1404, Anno1503, Anno1602, Anno1701, and finally Anno2070! It's not quite like other RTS games you've played; it can be much more involving as things such as the 'Trade' menu isn't just a button click and you're done. You have to actually PICK up your cargo and TRANSPORT it to the location you want to sell it to, either agree/disagree with the proposed trade (Some buy at a better price etc), and make some cash. This is just one minor - but very common - example of what the game has to offer.
Colonization - due to flooding we're at it again! - is the name of the game here as always; take your pick of deserted islands and start working on the staples of your new empire: location (trade routes), resources (coal, fertile land), eco-balance (don't kill the planet too much), population (shelter, entertainment, booze). There is a lot to think about when starting up, some pre-planning of features is a must. Thankfully you're not on your own to decide all of this from the get-go or learn it by experience from hours of trial-and-error; the game has a rather large 'Data Log' -even in the demo - at your disposal to help explain all the games features and backstory too. When new buildings become available or something of note happens EVE will pop up letting you know a Data Log is available for view. It would be nice to have entries in an expandable group form (akin to Mass Effect Codex) but there is a filter option to display only one type.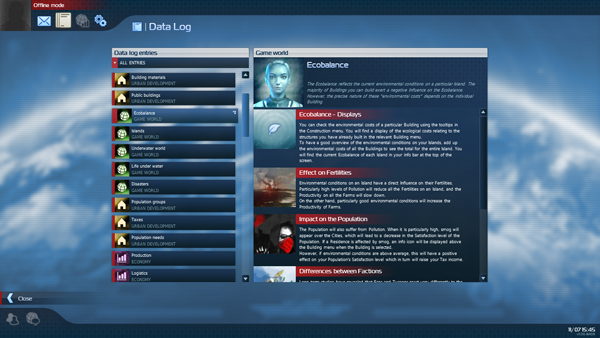 Unfortunately, in this pre-release demo (1.03gb ~ 1hr playtime) you cannot pick sides - otherwise I'd totally join up with the Tree Huggers from Day One! Regardless, the two missions available were still entertaining and a good introduction into the Anno series of games (features from past titles have not gone away so don't worry). The first mission is rather short & simple in terms of what you actually do; not a whole lot of required actions on your part. As with most games, the first level just involves a lot of endless chatter and moving 1-2 units around a map; although, you do end up blowing up your own hydro-electric dam which oddly enough led to the "You Have Won" screen... The voice actors themselves are interesting to listen to - much more than that darn AI voice - and their character portraits blend well with the interface so they are not distracting if you're in the middle of something else. The interface itself is rather streamlined, a lot of buttons that slide out more options but when you're not actively doing anything the game lets you enjoy the graphics in full glory!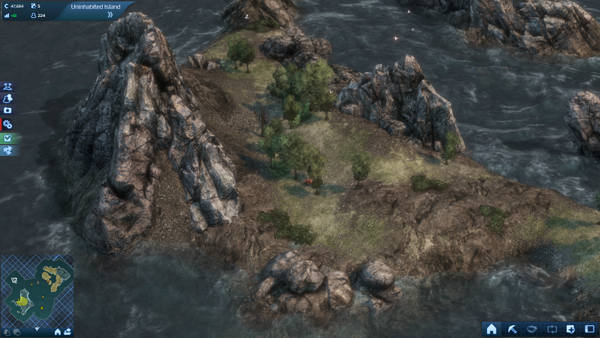 Yes, that is indeed a bear on a deserted island - seems appropriate of me to notice these things no? You can zoom in a good distance but not to the extent that you'd be able to pick out faces in a crowd; that would be a bit taxing on systems to keep such detailed textures loading/unloading as you zoom in and out - for an RTS it's not really needed but given how pretty the game is I had to check just to be sure. Everything is highly polished, no one building stands out as having more work done on it than any other; building designs in of themselves are interesting to look at up close and most have a recognizable purpose without having to select them to see what's going on. They WILL change over time so it's quite a surprise to be focusing away from your main city for a while and return to find the beginnings of skyscrapers lining your streets: provided you're city is a productive one that is!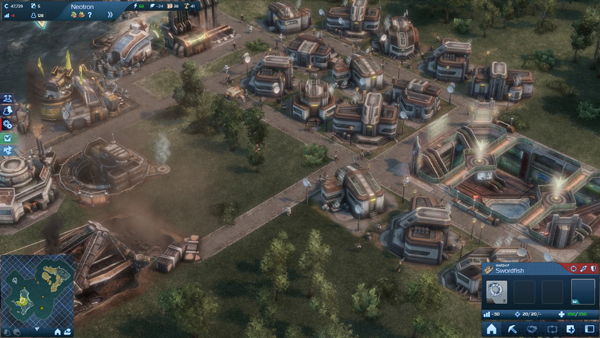 It would have been nice to have more options in terms of controls - being able to change the angle to a true top-down view or have a free-orbit feature with the mouse wheel; you can rotate the view as you please (scrollbar button), just not the angle unless you zoom in (scroll wheel). Overall though the controls are fairly intuitive; not once did I re-assign some command to a different key or flip the mouse options, which is really quite rare for me. I do like the in-game notification that comes with hitting the Print Screen button - all images are automatically saved to your My Documents folder - however that did interfere with my existing screen capture program so that half of the images were taken with Playclaw and the other half by the game engine strangely enough. I did not test that issue with Fraps or other game recording software.
With such an interesting backstory to this game and the inclusion of "Green-Tech" for the Eden faction I really cannot turn down Anno2070. I love everything and anything to do with self-sustainable technology and urban growth; so far, this demo has only reinforced my belief that they'll make an easy to play, very beautiful, real-time-strategy title fans of the series will love too. I know for a fact that when Anno2070 comes out on November 17th I will taking a day off to really put it through its paces; so expect a review with my final say on the game soon!